P'ville Firefighters Remember Murdered Comrade 18 Years Later
We are part of The Trust Project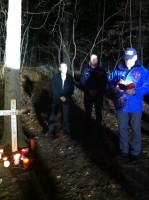 By Janine Bowen
Pleasantville firefighters gathered under a full moon in Graham Hills Park Monday night for a candlelight vigil to remember one of their own.
The vigil, held for the 18th time, remembered the life of volunteer firefighter Thomas Dorr, who was murdered in the park on Jan. 7, 1996. Dorr, 50 years old at the time of his death, was walking through the park near his Pollywiggle Road home, to feed the wild turkeys with his wife and stepson. Dorr then intended to walk to the Washington Avenue firehouse to join other volunteers on standby during a blizzard but was never seen alive again. His bludgeoned body was found the following morning by fellow firefighters concerned about his whereabouts. The murder remains unsolved.
"The fire department is a second family, and because of that, we'll do this every year until the murderer is found," said Commissioner John Brooks as he addressed the crowd who attended the vigil to remember Dorr.
The group was mostly comprised of Pleasantville firefighters and co-workers of Dorr at the White Plains Department of Public Works. Although not all in attendance knew Tom, those who did remembered him fondly.
"He was the kind of guy that you could always turn to, not matter what…and he'd be there to support you, to give you encouragement and to just boost your spirits when you were down," said Pleasantville firefighter Brian McGowan, who met  Dorr upon joining the department. "He was really a wonderful guy."
Brian Murphy, deputy commissioner of the White Plains Water Department, didn't know Dorr personally, but spoke of the affection that is still felt for the fallen firefighter.
"All the guys that worked with him at the water plant in White Plains always…called him the gentle giant and they all miss him. We're here all together in the hopes that we do find the murderer," Murphy said.
This year, there is greater hope that the nearly two-decade-old murder could be solved. Last week New York State Crime Stoppers announced it is offering a $2,500 reward to anybody who can provide information that will lead to the arrest and conviction of the person or persons responsible for Dorr's death.
"It's been 18 years, so we continually work on this and we believe that there is information out there in the community that can help us solve this case, so we want to really entice somebody to be able to come forward," said Captain Chris Calabrese of the Westchester County police.
Calabrese also said that the department has "pointed information" on who murdered Dorr, but not enough physical evidence to pursue the lead.
One woman, however, who was a friend of Dorr's but asked to remain anonymous, expressed doubts that the reward will lead to justice after so much time has passed.
Pastor Paul Egensteiner, of the Emanuel Evangelical Lutheran Church in Pleasantville, concluded the 20-minute vigil with a prayer and reminded everybody to remain hopeful that the case will one day be solved.
"We do believe that because you all keep the candles burning…keep the flame alive, that there will be a resolution. This will find its conclusion in justice," he said.