PV Student Honored for Radiant Positivity
We are part of The Trust Project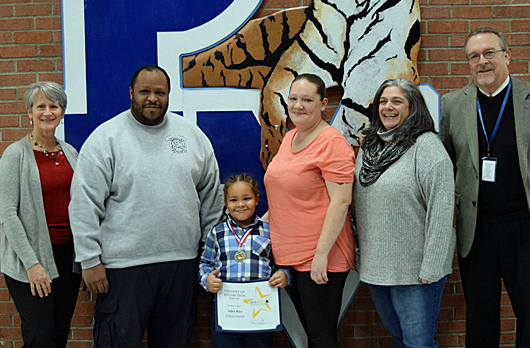 Aiden Rice's smile completely lit up the room as he accepted a Student of Distinction Award surrounded by teachers and administrators in the Putnam Valley High School library on November 19. Popular with many of the staff and administrators attending, Rice gave enthusiastic hugs before the start of the Putnam Valley School District Board of Education meeting and never stopped smiling.
"Aiden is relatively new to us and started out in our extensive therapeutic support program rather late last school year," said Michael Sowul, Walden School principal. "He's made a lot of gains in that program and we've felt that he could continue to make those gains in our learning center."
Since September, Rice has been thriving in Melissa Bayeur's K-1 self-contained classroom. Bayeur teared up while talking about him. "The smile is just contagious!" she said. "His enthusiasm, his creativity, he's a joy to have in class. He's not without his challenges, but rule number four in our classroom is 'Be the best you can be' and Aiden does that every day. Every day he shows us that despite the challenges he might have, he's going to continue to be the best that he can be. I'm so proud to be here tonight and I hope that Aiden feels just as proud because this is a great accomplishment."
Putnam Valley Superintendent Frances Wills handed Aiden his award surrounded by Bayeur, Sowul, Assistant Superintendent Natalie Doherty, and Putnam Valley Elementary School Assistant Principal Jenette Mistretta. There was not a dry eye in the group.
"Aiden, this is for you," said Wills as she gave Aiden his award. "And this is a very special certificate because you are being the best you can be. We are so proud of you."
Aiden's parents, Cameron Rice and Kayla Petrocine, were also incredibly proud, noting the improvement in his schoolwork and behavior in a conversation after his recognition.
"I think it's a different setting and it's helped him more," said Petrocine about Rice's experience at Walden School. "It's a smaller group and he can get more of the assistance that he needs. In Putnam Valley Elementary School, he was in a bigger class. It was a little more difficult for him. Since he went to BOCES, it's been a lot better. Not one phone call… Well, only for something good."