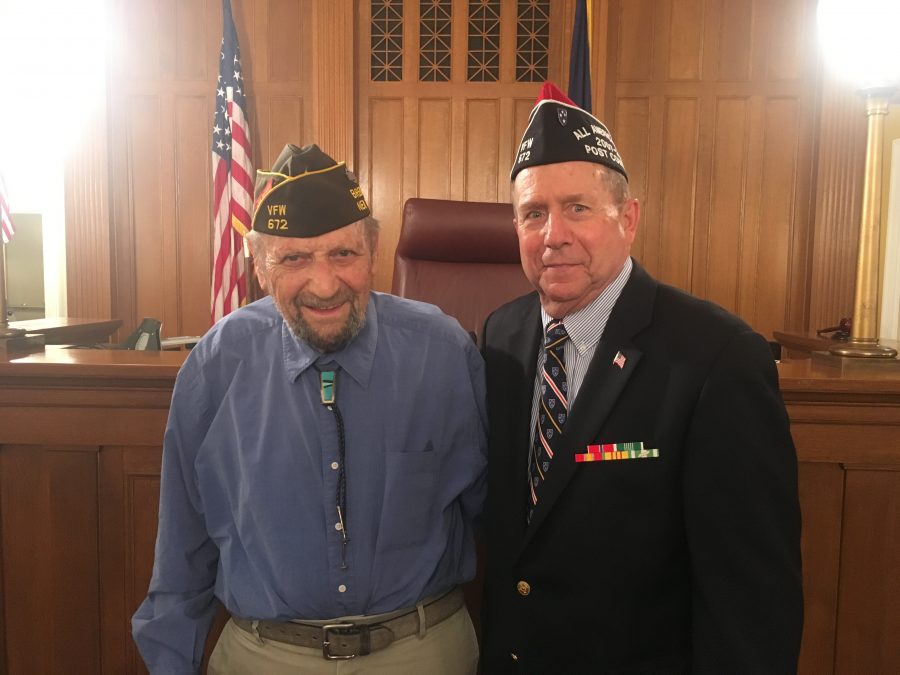 By Joseph Oliveri
Pride and courage were on full display when 24 World War II and Korean War veterans were awarded Putnam County Service Medals last Thursday at a ceremony at the Historic County Courthouse.
Thursday's ceremony also marked the 75th anniversary of D-Day, the Allied invasion of Normandy in 1944.
Art Hanley, deputy director of the Veterans Service Agency, presided over Thursday's event.
"If it wasn't for these men and their comrades, we wouldn't be enjoying the freedoms we do today," Hanley, a Vietnam veteran himself, told veterans and their friends and family members at Thursday's ceremony.
in Putnam since October of 1919; the original recipients were over 200 veterans of World War I. Legislators and veterans had discussed the idea of reinstating the award in Putnam as early as 2017. That December, the county Legislature voted to establish the Veterans' Service Medal Advisory Panel. An application process was designed and fundraising efforts for the medals took place throughout the following year.
"This is the first of many," District 4 Legislator and Medal Advisory Board member Ginny Nacerino said. "We're going to begin the process with our World War II vets and work our way towards the younger vets as we go down and have ceremonies throughout the county," she said.
Putnam County Clerk Michael Bartolotti awarded his father, Lawrence, a Navy veteran who served from 1952 to 1956 with a Service Medal.
"It's really an awesome feeling," Bartolotti said. "We've always had a great bond with the veterans and the veteran community. It dawned on me pretty late in the process that my dad, given the criteria, was eligible for a medal," Bartolotti said. "I've looked up to my dad my whole life and still do to this day," he said.
Brewster resident Joseph Cioccolanti, said Thursday he felt honored to be recognized. A World War II veteran, Cioccolanti served from 1943 to 1946, and fought in Germany as a member of the 89th Infantry Division, in an anti- tank unit.
"I'm just very appreciative," Cioccolotti said. "I wish all the communities in the U.S. were as patriotic as Putnam County is."
Michael Keropian, a Kent-based sculptor designed the medal, which features a portrait of Daniel Nimham, a Munsee Native American from Hudson Valley who fought in the Revolutionary War.
"I thought it was important for Putnam County to depict him," Keropian said, and added, "I'm appreciative that I could give something back to the veterans of Putnam County."
Recognized on Thursday were Joseph Adomo, of Brewster, Norman Berenback, of Brewster, Walter Sieck, of The service Medal that was given to veterans last week. Brewster, John W. Haslach, of Carmel, Joseph Ciccolanti, of Brewster, James L. DiPelesi, of Mahopac, Edward Donaher, of Mahopac, Joseph Gervasi, of Kent, Marvin Needlman, of Cold Spring, Thomas Smith, of Brewster, Joseph P. Castellano, of Carmel, James E. Bradley, of Brewster, George D'Alessandro, of Kent, Esteban Alicea, Joseph Reinhardt, of Carmel, John Crowley of Kent, George Godfrey, of Brewster, Francis Lahey, of Cold Spring, Peter Marino, of Carmel, Lawrence Bartolotti, of Kent, Louis Gasparini, of Brewster, Martin Puchalski, of Kent, Luke Neil Hickey, of Kent, and Manuel Salmon, of Carmel.
According to Nacerino, the next series of Service Medals will be awarded at a ceremony this coming Veteran's Day, and that the advisory board aspires to hold similar satellite ceremonies at town halls and volunteer fire departments throughout the county in the future.
For more information on the program, or to apply for the Service Medal, contact Karl Rohde at the Putnam County Veterans Service Agency at 845-808-1620, or at karl. rohde@putnamcountyny.gov.