Putnam Valley Zombie Home Faces Demolition
We are part of The Trust Project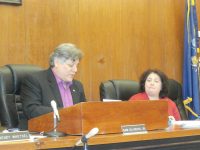 The countdown to demolition day in Putnam Valley is underway.
During its monthly meeting Wednesday, the town board voted unanimously to tear down a single family home at 31 Orchard Street after a public hearing was held last month to determine the fate of the decrepit house. Frustrated board members, including Supervisor Sam Oliverio and Councilwoman Jackie Annabi, were unhappy no progress was made on the home since the hearing last month.
Annabi said the town board has given the homeowner and mortgage holders a chance to rectify the situation at 31 Orchard Street, but "nothing has been done." Annabi, who was more receptive to seeing if a mortgage owner could get the building up to code during last month's public hearing, said the home still hasn't been boarded up.
"Nothing has been done to the building to secure it as promise," Annabi said.
Oliverio, said the demolition and removal of the home would not begin until 120 days from Dec. 7, 216, when the notice that the house violated town code was served. That gives the interested stakeholders a chance to seek a remedy through the legal system.
"We're going to rip that building down otherwise," Oliverio said. "Nothing has been done to this building. And the residents of Floradan, you are absolutely right. It is still open to any kid that wants to go in and cause mischief, it is still open to vermin and animals, and the roof is still collapsing. Not a single thing was worked upon as we were promised."
Robert Siano, an attorney representing mortgage holder and former owner of the home Marwan Daoud, said his client attempted to fix the home up, but was told he wasn't allowed to by the current homeowner Ralph Capodieci. Siano said he advised Capodieci to board the property, but nothing was done.
Oliverio said he'd prefer to see zombie homes like the one on Orchard Street renovated, rather than ripped down. Still, he was skeptical if it could get done in this case.
Oliverio cautioned to repair the building would be an "onerous task."