Putnam Valley Native Chosen as the Navy's Soldier of the Day
We are part of The Trust Project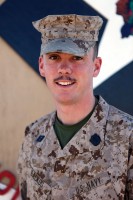 From Forward Operating Base Delaram II in Afghanistan it was announced that the sailor of the day is Hospitalman Andrew M. Backus, a  21 year old, corpsman, Regimental Combat Team 6, from Putnam Valley.
Backus joined the Navy in May 2010.
Backus joined the Navy because one of his grandfathers was in the Navy and his other grandfather was in the Marines during the Korean war.
"I decided to split the difference and do both," Backus said. "I wanted to advance in life, get training towards a career, and do the right thing – just make a difference."
While his grandparents may have helped him decide which service to join, Backus claims it was his parents and their example that helped him decide which field. His mom was a flight-medical-evacuation nurse for more than 20 years and his father was a firefighter for more than 30 years.
"It runs in my family to help people out," Backus said. "I'm very family oriented, they're a big reason I'm (in the military) today."
Backus' father always pushed him to be the best. For this reason, he went to psychology technician school in addition to regular corpsman school. The school trains corpsman how to take interviews, establish rapport and boost the morale of the Marines they're deployed with. Because of his desire to be the best, he also wants the Marines he works with to be at their finest.
"My dad always said, 'if you're not the lead dog, the view never changes'," Backus said. "I want to make sure the Marines are focused, to get them back to optimal tempo. You have to push yourself to be the best and if you're not, try harder, right?"
Backus is unsure if he wants to get out after one enlistment or continue until he retires. If he does get out, he wants to go to college and get his degree. After that he might become a police officer.
"I want to go to a state college, not a community, it's a better education and way more girls," Backus joked. "I could be a lifer. I don't know; it'll just depend on how things go."
When not on duty Backus likes to read. His favorite authors are James Patterson and Clive Cussler. He also likes organized sports, football and ultimate Frisbee. His shop tries to have weekly games with other shops in the regiment every week.
"It's good for camaraderie, (sailors) like to get out and play sports with the Marines. We're all competitive," Backus said.