Putnam Valley Library Doors Remain Shut
We are part of The Trust Project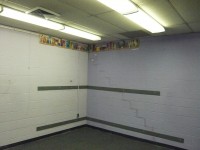 Since mid-September, the Putnam Valley Library has had to close its doors. And it appears it will remain that way for the near future as structural damage has made the building nearly unusable.
The library, located along Oscawana Road, could be closed for at least another 10 more weeks as the library board of trustees work on getting the project out to bid for repairs to one corner of the building's second floor, board president Priscilla Keresey said in an interview last week. Still reeling from the wrath of Hurricane Sandy, the corner has several cracks in the wall and once engineers came in, it was determined construction was necessary.
As of now, the library is still operating on a limited basis. Residents can still order books online and come in to pick them up and drop them off. All of that activity is being run out of the community room.
Shelves currently have covers over them and residents don't have the freedom to simply come in and read the newspaper, go on the computers, or look through the book collection.
"It's been a blow to community," Keresey said.
Keresey said the contractor has yet to provide a start time for the work, with the permits still being filed and bidding still being settled. An estimate would be 8-10 weeks once construction gets underway and at that point, the entire library will be closed.
During that time period, the library will hopefully be operating from another location.
The cost is expected to be more than $100,000, but it won't be a burden on taxpayers, Keresey said. The library's current capital funds will be used, but Keresey said they are seeking donations to help contribute to the large price tag.
State Senator Terry Gipson is meeting with library officials this week, and Keresey hopes that results in more monetary support.
Once the renovation is complete, the library will have less room, with one office being moved to another spot in the library.
McLaughlin said this is the longest the library has had shut doors. She recalled one time the library was closed when the entire interior was painted and carpet was laid and another time when the boiler was installed.
"This is dramatic," McLaughlin said of the current state of affairs.
Keresey said she fully understand the difficulties this has caused many residents in the area. In an open letter to the community, the board stated its "sincerest apologies for the disruption, but this is a situation that must be addressed in a timely and thorough manner."
In the meantime, patrons can go to other libraries of the Mid-Hudson Library System, which include Desmond Fish in Garrison, Butterfield in Cold Spring and the Mahopac Library.
"We recognize that this is hardship for people," Keresey said. "And we would like them to know we're working as hard as we can to get this up and running again."