Putnam Towns Look to Strengthen Safety Measures
We are part of The Trust Project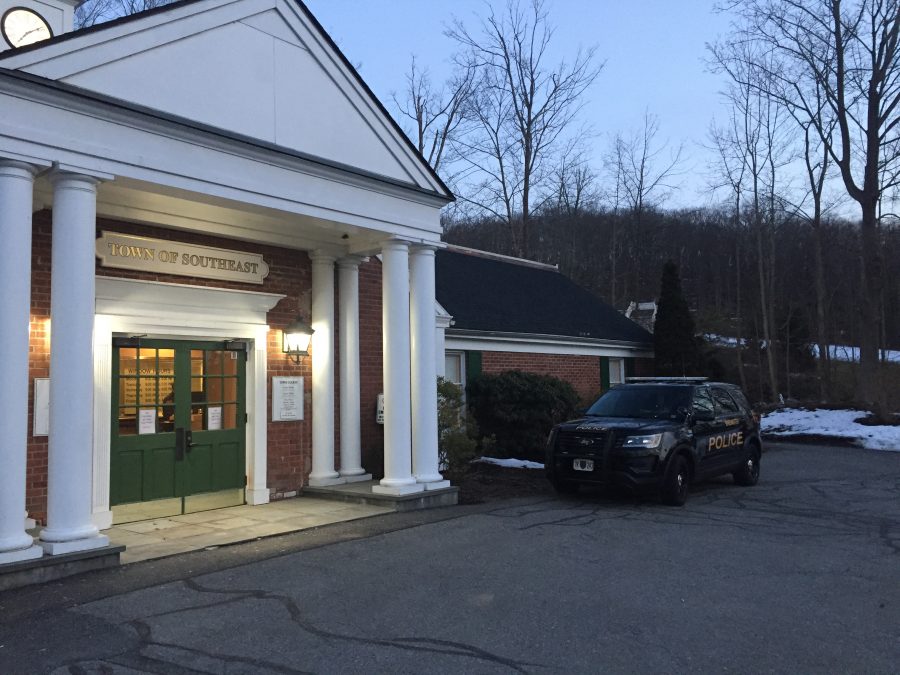 The Town of Southeast now has the distinction as the sole municipality in Putnam County to have armed guards and require community members to go through a metal detector at town board meetings, a noticeable change that got underway last week.
The buffed up safety protocol occurred at Southeast's meeting last Thursday when two officers from the Brewster village police department greeted people prior to the meeting requiring them to pass through a metal detector before they could enter the meeting room. The two officers stayed for the duration of the meeting, which lasted just over two hours. There were also a couple of signs posted stating no person could bring a firearm inside the meeting room. (That has always been the case, but a sign has never been posted before.)
This was the first time there was added security for a meeting and it is expected to continue going forward, Supervisor Tony Hay told The Putnam Examiner.
Hay said most towns see the rash of mass shooting violence occurring throughout the country and Southeast is simply taking additional precautions. While this is the first town in the county to go forward with these measures, other towns have been looking into having a more secure town hall.
During a protective services committee meeting of the county Legislature last week, Putnam Valley Supervisor Sam Oliverio requested the county provide a special patrol officer for town hall during business hours. There have been a couple of incidents over the past year that led to Oliverio's request, including one person driving his vehicle back and forth in front of town hall "literally stalking" the building. During these incidents, sheriff deputies have had to come to town hall to simmer tensions, he said.
Oliverio noted employees are "rightfully concerned."
"They're very frightened," Oliverio said.
The town would pay for the SPO's hours, but the county would handle the training and provide a uniform and weapon.
Carmel Supervisor Kenny Schmitt made a similar request to the county last November, hoping to have an SPO cover town hall during business hours. At least three times in the last year, a Carmel town employee had to hit the panic button, requesting assistance from Carmel police.
An armed guard is stationed at the front of the county office building daily during business hours and for legislative meetings in the evening.
As for Southeast, Hay said there was no specific reason for the heightened security at the board meeting. One police officer from the Brewster department cost $25 per hour, Hay said. Going forward, only one officer is expected to attend meetings. There has been no discussion of an armed guard monitoring town hall during the day.
Hay said the same protocol typically used for justice court was followed for the town board meeting, including making clear no firearms are allowed inside the meeting room. When asked if he could ever recall a person bringing a firearm to a meeting, Hay replied, "how would you know?"
"Unless they pull a gun and shoot you, you have no idea they have a firearm," Hay said. "That's why you got the precaution."