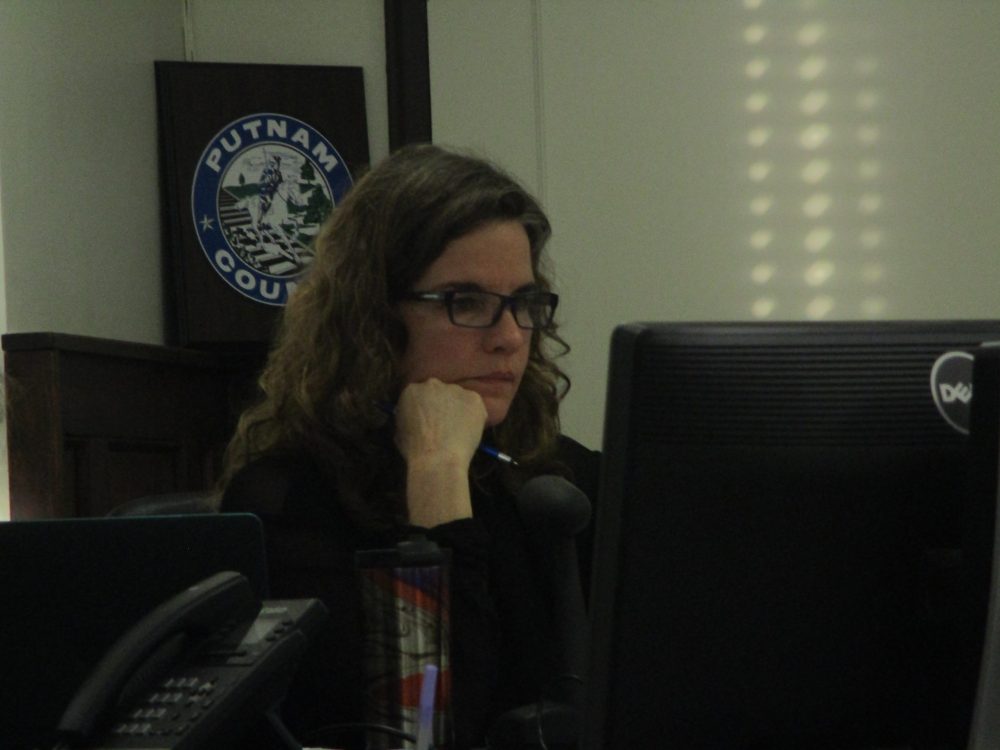 Putnam County officials are considering discontinuing the operation of the Special Supplemental Nutrition Program for Women, Infants, and Children (WIC) and transferring the program to the Open Door Family Medical Center and Foundation facility in Brewster.
The possible change was questioned by county Legislator Nancy Montgomery and the head of the CSEA at the May 23 county Legislature's personnel committee meeting with several county jobs on the line. No decision was made at last week's meeting.
Putnam Health Commissioner Dr. Michael Nesheiwat told the committee last week county government began the WIC program about 15 years ago and it was time to transfer it to Open Door because "they have a full array of services," including many medical services, he said.
Transferring WIC to Open Door would be in the best interests of both the WIC recipients and the county's taxpayers, he said.
In 1999, the county health department stopped providing mental health services and home medical services in 2010 and contracted those services out, Nesheiwat said.
The county needs to "protect the people of Putnam County as the taxpayers and their health," Nesheiwat said.
County Fiscal Manager William Orr told the committee that last year the county lost $125,000 on the WIC program and the county estimates it will lose $111,000 this year. The county is the fourth year of a five-year contract with the state, he said and is receiving a state grant of $437,739. Once the county spends more in administering the program in a year than provided by the grant the
difference is calculated as a loss, Orr said. Between 1,100 and 1,200 Putnam County residents participate in the WIC program every year, Orr said.
The state has reevaluated the county's WIC program recently because Putnam is in the fourth year of its five year grant, Orr noted. Open Door would seek to expand WIC in Putnam, he said.
The proposal being considered by the county is to transfer WIC to Open Door on Oct. 1.
Committee Chairwoman Ginny Nacerino said transferring WIC to Open Door could be beneficial. However the transfer of the service would lead to job losses for county employees who are currently providing WIC, she said. The legislature should make decisions "based on the greater good as difficult as they may be," she said. The county could look for ways to assist those employees who would be fired to find work elsewhere, she said.
Nesheiwat said Open Door has agreed to interview the county employees who would lose their jobs if it took over the WIC program. In addition, the county will attempt to find work elsewhere in county government for those who would lose their jobs, he said.
Montgomery opposed moving WIC to Open Door. "I think it's an essential service," she said.
"This is a personnel issue. We have four full-time dedicated employees," Montgomery said. "I don't understand why we would do this to these employees."
Montgomery questioned why the county would discontinue WCI before its five-year contract with the state ends and why they are considering a plan would cause county employees to lose their jobs within only a few months.
The Brewster Open Door location provides several services that could be utilized by WIC recipients, Nacerino said.
"We in Putnam County cannot hire physicians and offer all the services that Open Door offers now because of budgetary restraints," Nesheiwat said. "We have to look at our mission and that is what's best for people, as a whole, of Putnam County."
"We don't want to hurt employees, especially dedicated people," Nesheiwat said. "All I can tell you is in my discussion with our Personnel Director (Paul Eldridge) they will do their best to find jobs within the county that are open."
Eldridge did not attend last week's meeting.
CSEA Unit 8150 President Janet Canaday spoke in opposition to the proposed WIC plan. Aside from the four full-time county employees who administer WIC, there are also four temporary employees and one part- time employee who provide the service, Canaday said.
"The news was devastating to all these employees," she said.
Canaday said the potential transfer of WIC has been moving quickly. "The union was blindsided," she said.
The union will be meeting with county officials for contract negotiations on June 17, Canaday said. The union asked the committee to table a decision on moving the proposal to transfer WIC to Open Door and not move on the matter until after June 17, she said.
One of the county employees who would lose their job is a nutritionist who would not be able to find a job elsewhere in county government, Canaday said.
County Attorney Jennifer Bumgarner said the state Department of Health has expressed support for the proposal to move WIC to Open Door. The number of persons receiving WIC in Putnam has been decreasing and the amount of the state grant for the fifth year of the contract would be based in part on the number of residents who are participating this year, she said.
Open Door Family Medical Center and Foundation President and CEO Lindsay Farrell said Open Door has been operating in Brewster since 2013. "We operated the WIC program for decades" at its other locations, Farrell said.
Because Open Door works with pregnant women, it gets them enrolled in WIC if eligible at three Westchester locations, Farrell said. "That handoff is really important," she said.
Open Door provides several services including prenatal and pediatric care, Farrell said.
Montgomery told Farrell that her concerns about transferring WIC was not a criticism of Open Door, which she was impressed with when she recently visited their Brewster location for a conference. "This is a great facility," Montgomery said.
The committee voted to delay taking action on the proposal and the discussion will continue at its June meeting.