Putnam Duo Premiering Reality Pilot in Brewster
We are part of The Trust Project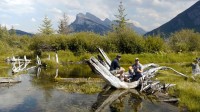 In 2003, roommates Matt Frohman and Rich Marshall were working together at Hudson Valley Outfitters in Cold Spring when the Outdoor Life Network called the store with an unusual request. The network was looking for two fit, outdoorsy men in a feud with each other for a reality show. The pair would face off in an obstacle course for "Bragging Rights," as the show was called.
Frohman and Marshall jumped at the opportunity and were sent to a resort in Connecticut to take part in the challenge. The beef they were looking to settle – Frohman's girlfriend (who is now his wife) insisted he move out of his Cold Spring bachelor pad with Marshall and move in with her – was at the very least greatly exaggerated, they now acknowledge. Still, though Frohman won ("He kicked my ass," Marshall admits), both had a blast working together.
A decade later, the duo is back on camera in "Rogues on the Road," a television pilot written by the Putnam residents and nine years in the making. Frohman and Marshall are showing the pilot Thursday at Brewster's Empire Movie Theater and hope their series will soon be picked up by a network.
"Basically the format of the show is Rich and I travel to an area," Frohman, a Brewster resident and a science teacher at Solomon Schechter Middle School in Hartsdale, explained. "We highlight that area. And we gather ingredients for a meal."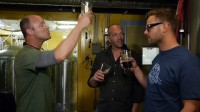 After gathering the ingredients – through hunting, fishing and foraging – the pair have a local chef come prepare a meal, then match it with a local beer. It highlights the natural beauty of each area – the pilot was filmed in the Canadian Rockies – and focuses on the sustainability of the resources used. What gives the show its charm, Frohman said, is the banter between himself, a Chappaqua native and Horace Greeley grad, and Marshall, who hails from Cambridge, England.
"Rich was a city boy, but I've always been an outdoorsman. I hunt, I fish, I backpack," Frohman, 42, explained. "We bounce off each other in the show."
Frohman and Marshall first met in the mid 1990s when they were working at a camp for adults with developmental disabilities. It took some time ("We hated each other at first," Frohman recalls) but they became close friends and Marshall, now a Patterson resident, began warming up to the outdoors. Soon they were working together as Hudson River kayak guides.
Their "eureka" moment came nine years ago, during a kayaking and camping trip off the coast of Portland, Maine. On the second night of their trip they spotted a lobster boat and bought a couple lobsters on the spot, turning it into a feast.
"It was at that kind of moment that we said, 'We should put together a show,'" remembered Frohman. "This would be an amazing show.'"
They still had some contacts from the "Bragging Rights" episode the year before and were told the first step was to film a pilot. They contacted hundreds of production companies but for years found nothing but frustration.
"For nine years, I was just pitching it to different networks," Marshall, 39, said. "I didn't really know what I was doing, to be honest with you."
Finally, last spring, Calgary-based Tracker Productions teamed up with them to film the "Rogues on the Road" pilot.
"We learned as we went," Frohman said. "Zero experience. We were flying by the seat of our pants."
Despite a few scares, including nearly being sent home at customs, the filming and production went well.
"It's exciting," said Marshall. "The first time we saw footage, it's a little weird."
The premiere will be shown at 9 p.m. Thursday, with a pre-screening party at O'Connor's Public House. The event is free, though donations will be accepted for the charity Antonio's Gift.
Hoping to get the series picked up, Marshall and Frohman have mapped out plans for a 13-episode season. The 13th episode would take place right in Cold Spring.
Seeing their show on the big screen is something Frohman was often convinced would never happen. Even when he was ready to give up, he said, his friend was still relentlessly pitching their project, contacting hundreds of production companies.
"I thought it was an awesome concept. I knew the two of us were going to work well with it," Marshall explained. "No harm in trying, right?"
For more on Rogues on the Road visit roguesontheroad.com.