Putnam DA Sues Sheriff: Levy Files $5 Million Defamation Lawsuit Against Smith
We are part of The Trust Project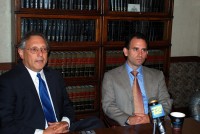 Putnam County District Attorney Adam Levy has filed a $5 million defamation lawsuit against Sheriff Don Smith, saying the sheriff erroneously accused Levy of interfering with the criminal investigation of Alexandru Hossu, a family friend of the DA arrested in March for allegedly raping a young girl.
"Sheriff Don Smith is an out of control sheriff who's on a power trip, a political power trip, and he allows that power trip to affect his decision-making processes," Levy said at a press conference Wednesday in Carmel announcing the lawsuit. "I have the means by which to hold him accountable for his words and his deeds, and that's why I filed this lawsuit."
Levy cited statements made by Smith following Hossu's arrest for allegedly raping the young daughter of his girlfriend, including a March 22 press release.
"In my view, Mr. Levy's comments and actions would seem to suggest that, if he could have his own way, Mr. Hossu never would have been brought to justice for his crime and Mr. Levy's relationship with him would have never been brought to the light of public scrutiny," Smith said in the March 22 statement.
On Wednesday Levy's attorney, Michael Sussman of Sussman & Watkins in Goshen, said Smith "engaged in a pattern of malicious statements, which were intended to defame the sitting district attorney, claiming maliciously and falsely that the district attorney interfered in a serious criminal matter."
Levy defended his handling of the case, saying he recused himself and brought in the Westchester County District Attorney's Office as soon as he found out his friend had been arrested.
"There is no way, none, that I would have been able to, as the sitting DA, handle that prosecution," Levy said. "I followed my ethical, my legal and my moral obligations as DA, as a father, as a person who truly cares about children, to make sure that there was a professional district attorney's office available to assist Sheriff Smith and his department in the investigation of my family friend."
Smith, who faces a tough Republican primary against former MTA Police Chief Kevin McConville, called the timing of the lawsuit "blatantly political and obviously intended to try to influence the outcome of an election."
"Plain and simple, this lawsuit is politically motivated, is frivolous, without any merit and will be defended vigorously in a court of law," Smith said Wednesday. "I look forward to all this being adjudicated in the courts and I am confident that this will be seen as a frivolous lawsuit."
Levy said neither the lawsuit nor the timing were politically motivated.
Hossu, 35, is accused of twice raping a 13-year-old girl in 2010. Levy said Hossu was his family's trainer and close friend, and sometimes babysat his children.
When Hossu was arrested, Smith's office listed his address as 70 Indian Wells Road, which is the address of Levy's home. Levy claimed Smith knew Hossu in fact lived on Clock Tower Commons Drive in Brewster and though he frequently stayed in the Levy family guest bedroom never lived at his home.
Smith said he has not yet received the lawsuit, and Sussman said he intends to serve the lawsuit Thursday morning.