Putnam County's 2017 Year in Review
We are part of The Trust Project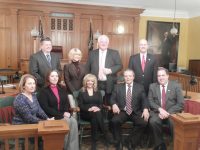 January
The Putnam County Legislature began the New Year by replacing a longtime fixture of the lawmaking body. Legislative Counsel Clement Van Ross was ousted by the legislature when most lawmakers voted to rescind a 2015 resolution that appointed him counsel for three years, effectively ending his decades-long tenure with county government. He threatened to sue the county, but didn't follow through. Robert Firriolo was named the new legislative counsel later in the year… Ginny Nacerino was appointed legislature chairwoman, making her the first woman to lead the legislature two years in a row… In a move that sent shockwaves across the region, New York State and Entergy announced Indian Point nuclear plant in Northern Westchester would be closed by 2021. The power plant supplies electricity to several million homes and businesses and provides hundreds of jobs to residents in the Lower Hudson Valley… Patterson resident and perpetual Putnam sheriff candidate Andrew DeStefano's conviction for filing forged nominating petitions in 2009 was overturned and vacated by a state appellate court. DeStefano, a former NYPD captain, said he felt "born again" after the ruling came down in his favor… Putnam Visitor's Bureau board chairman Barney Molloy, a Cold Spring resident, was arrested and accused of stealing newspapers from a local merchant on the village's main street.
February
Paul Boscia, following in the footsteps of the late Peter Convery, began his term as Putnam undersheriff. Sheriff Don Smith named Boscia, a former sergeant in the department, to the position after Convery died suddenly in 2016… Former treasurer for the Patterson Volunteer Fire Department, Albert Melin, was sentenced to 33 months in prison for stealing more than $1 million from the department. Melin pleaded guilty in 2016 and was handed down the sentence in federal court in White Plains. The stolen money was recuperated by the department through its insurance company… Former sheriff's investigator Patrick Castaldo's police brutality case came to close when he pleaded guilty to harassment in the 2nd degree and was sentenced to conditional discharge. Castaldo was originally charged with a felony and two misdemeanors by former district attorney Adam Levy stemming from a 2014 incident where a shackled prisoner went for a former investigator's gun and Castaldo prevented it, but then was seen in a surveillance video seemingly hitting the prisoner after he was subdued. The indictment was thrown out at one point and then was reinstated. The Orange County District Attorney's Office handled the case because current District Attorney Robert Tendy recused his office from the prosecution… Former Carmel Police cop Richard O'Keefe pleaded guilty to one count of criminally negligent homicide stemming from a case where he allegedly drove drunk and crashed into another car on Route 6, leading to one person's death. O'Keefe was later sentenced to one year in county jail.
March
Chaos ensued in Carmel when town property owners finally received their new tax assessments following a town wide tax reevaluation. Hundreds of residents came out to voice their intense anger and disapproval toward the tax reassessment, complaining their taxes would increase too sharply. Town board members defended the process for the most part and noted many people saw the taxes on their property decrease or remain level. While there was talk of delaying the implementation of the new tax assessments, the town assessor decided to forge ahead with certifying the revaluation… Ex-treasurer of the Mahopac Volunteer Fire Department Michael Klein pleaded guilty to charges connected to the embezzlement of the department's funds. Klein was accused of stealing more than $5 million from the department over 13 years. The theft, which only involved Klein, has resulted in a tense relationship between the department and the Carmel town board… Bruce Conklin was named Visitor's Bureau director. He took over for interim director Frank Smith, who took the reins after former New York first lady Libby Pataki resigned following scandal… Former Mahopac Chamber CEO Erin Meagher was arrested on a charge of grand larceny. She was accused of using the Mahopac chamber's credit card to purchase personal items, including an Ivanka Trump shoes… Cold Spring Mayor Dave Merandy eked out a close win to retain his seat against challenger Alison Anthoine. The vote on Election Day in the village was too close to call, but Merandy pulled through after absentees were counted to win by 23 votes.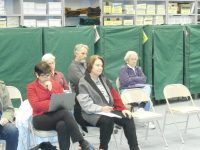 April
The Philipstown town board, in front of a packed house of divided residents, voted in a 3-2 decision to make the town a sanctuary town following the election of Republican Donald Trump. The status, heavily debated, prohibits town officials from helping federal agents in illegal immigration cases unless compelled by a judicial order… The New York State budget passed, even though a few days late, with local state senators Terrence Murphy and Sue Serino voting in favor of it, Assemblywoman Sandy Galef voting for it, and Assemblyman Kevin Byrne voting against it… The only murder in Putnam County all year took place near the end of the month when Mahopac resident Perla Gatchalian was killed by her daughter's father-in-law, according to Carmel Police. Gatchalian was shot once, according to police, by Filippo Buffone in her daughter's Mahopac home. Buffone ended up committing suicide as authorities were closing in on him.
May
Sheriff Don Smith's quest for another term in office started when he was endorsed overwhelmingly over challenger Andrew DeStefano at the GOP convention. Endorsing Smith was oddly enough, former sheriff candidate and past critic of Smith, Kevin McConville… Putnam Visitor's Bureau board chairman Barney Molloy's case in which he was charged with stealing copies of The New York Times from a local business in Cold Spring was dismissed… Roger Ailes, the past CEO of Fox News and Garrison resident, died at the age of 77. Ailes was a controversial figure in Putnam and owned two local newspapers. He was supposed to donate money to a senior center in Cold Spring and have his name affixed to the center, but that never materialized after he was accused of sexual harassment at Fox News… Erin Meagher, former Mahopac chamber CEO, pleaded guilty to a misdemeanor after she was accused of stealing from the chamber. She refused to resign her trustee position in Brewster, but never showed up to another meeting after she admitted wrongdoing. At the start of each meeting for months, her fellow board members would call on her to step down.
June
Tilly's Table at Tilly Foster Farm opened at the start of the month after the county poured more than $1 million into the farm property… The first ever female sergeant was appointed in the Town of Carmel's police department. Carmel resident Laura Smith broke a glass ceiling when she was named to the position by chief Michael Cazzari… What could only be described as an absolute bombshell, Sheriff Don Smith admitted he told the public untruths about former district attorney Adam Levy's conduct in a rape investigation. In 2013, after the rape arrest of Alexandru Hossu (later found innocent), Smith alleged in press releases Levy interfered with the investigation and knowingly harbored an illegal immigrant, but retracted those statements at the conclusion of Levy's defamation lawsuit against Smith. The county paid Levy $125,000 and Smith personally paid $25,000 to Levy, leading to outrage in the county. Former sheriff investigator Robert Langley announced his bid for the top cop spot soon after the revelations came out about Smith's untruths… Former Mahopac fire department treasurer Michael Klein was sentenced to more than 6 years in prison for convictions connected to his $5 million theft of fire department funds.
July
The Putnam County Legislature voted down a proposed Patrolman Benevolent Association contract for sheriff office personnel, leading to anger among the rank and file in the department. The legislature stonewalled the deal unanimously, calling it fiscally unsustainable… Mahopac Superintendent of Schools Dr. Dennis Creedon announced he'd be leaving the district once his contract expired at the end of the school year. A new school chief is expected to be found by early 2018… A proposed recreation center in Putnam Valley was voted down by referendum. The $3.8 million bond would have been paid off over many years, but voters in town decided the proposition was too costly and the center wasn't necessary… Former NYPD captain Andrew DeStefano, vying for the sheriff 's office, was bounced off the ballot for a September primary against Sheriff Don Smith. Over the next month DeStefano and the Board of Election battled back and forth, with DeStefano ultimately staying off the ballot… Sheriff Smith was admitted to the ICU with heart problems, but was expected to make a full recovery.
August
The suspect of the Garrison Garage murder, Anthony Grigoroff was convicted againfortheslayingofformerPhilipstown resident John Marcinak. Grigoroff was found guilty once in 2009, but on appeal was granted another trial. District Attorney Robert Tendy personally tried the case and saw that Grigoroff was sentenced to at least 25 years behind bars.
September
A new commissioner for the county's Bureau of Emergency Services was named after the retirement of Tony Sutton. Kenneth Clair, a longtime Brewster resident and firefighter, was named the new EMS chief, being promoted from his deputy commissioner position… Two local Republican primaries for town board saw success for political newcomers. Promising change for Carmel, Mahopac businessman Michael Barile was the top vote getter in the three-way primary to secure one of the two spots on the general election ballot. Incumbent Republican Suzi McDonough came in second, getting past Councilman Frank Lombardi, who will be leaving the town board at the end of the year. In the Patterson town board GOP primary for two seats, newcomer Mary Smith was the top vote getter and current Councilman Peter Dandreano won against local businessman Joe Capasso… The biggest shocker from primary day was three-term legislator Dini LoBue losing to challenger Amy SayeghintheGOPcontest.Sayeghwas the endorsed candidate against LoBue, who has been the sole voice of dissent on the legislature… The entire zoning board of appeals in the Town of Kent resigned from their positions after clashing with the town board and receiving backlash from community members after they made a ruling that allowed an unpopular concrete plant to operate along Route 52. The ZBA remains barren as of this week and residents remain peeved at the concrete plant nearby.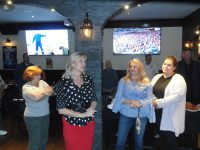 October
Perhaps the most disturbing news piece of the year occurred when the sheriff's office arrested a Brewster High School instructor for allegedly having sexual interaction with a female high school student, who was a minor. Christopher Vlangas, 41, was arrested on rape charges. An investigation into the allegations began at the start of the month with Vlangas, 41, eventually taken into custody… It was thought the legal drama between ex- district attorney Adam Levy and Sheriff Don Smith was over, but that wasn't the case. Levy filed legal action to seek liquated damages from Smith because Levy's legal team claims Smith and his attorney made disparaging remarks about Levy when explaining why the two settled Levy's defamation case in June… The Putnam County Legislature adopted the county budget for 2018, including a sizable pay hike for themselves. Legislators, in a 6-3 vote, approved giving themselves a $5,000 salary bump, going from almost $36,000 annually to earning almost $41,000 yearly.
November
In one of the most shocking election results Putnam County has ever seen, Democrat Robert Langley beat Republican incumbent Sheriff Don Smith by a slim margin for the office of sheriff. Langley, a former sheriff's investigator, eked out the victory by less than 350 votes against the 16-year incumbent. The election wasn't called until absentee votes were counted a week after Election Day. It's the first time in decades a Democrat won a countywide race. While most incumbents on the town board and legislature won their races, another election upset occurred when Democrat John Lord topped Republican incumbent Robert Cullen for a seat on the Southeast town board. Lord's race also went to absentee votes, and he won by just 27 votes… All six town budget proposed in the county were approved and remained under the tax cap… It was announced the decision whether to erect a controversial cell tower in Nelsonville would be delayed until January. Originally, the deadline was Dec. 15, but it was agreed by the applicant and village zoning board to push it off until the start of next year.
December
An $85.6 million bond put forth by the Carmel school district failed with 65 percent of voters turning down proposition A and 68 percent of voters going against proposition B. The capital project bond was meant to make sweeping repairs, renovations, and improvements across the school system… County Executive MaryEllen Odell signed a resolution that gave Putnam County the green light to sue big pharmaceutical companies, accusing them of causing the opioid crisis in the county. The county Legislature voted 8-0 to approve the litigation as Putnam joins other counties in hopes of recuperating money from the big pharma companies that's been spent on the drug epidemic and possibly getting them to change their practices.