Putnam County Healthiest Place to Live in New York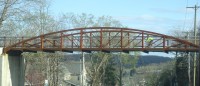 Beating out Westchester County to the south and Dutchess County to the north, along with the other 61 counties in the state, Putnam County recently was named the healthiest place to live in New York, according to a national study that was conducted by the University of Wisconsin.
This is the third year in a row that Putnam County made the top of the list.
"It's really great when you are sustaining it," Putnam County Executive MaryEllen Odell said of the repeat top ranking. "We are not a one-hit wonder."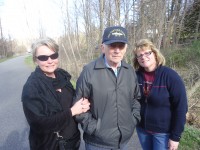 News of being named the healthiest county came on the heels of recent news that Putnam County is also the safest county in the state. County Executive Odell also said that last week the White Oak Apiary in Brewster that is owned by Mike Bruen, received the distinction of having the best-tasting honey state-wide.
"We are the healthiest, the safest, and now…the sweetest," she said jovially.
Access to healthy foods – like local honey – and a low rate of violent crime, were just a couple of the dozens of factors that researchers looked at.
Where did Putnam County do extremely well compared to state and national statistics?
The towns in Putnam County graduate high school students at a much higher rate. There are much fewer single parent homes and only a fraction of children living in poverty compared to other areas. While Putnam County doesn't have as many primary care physicians per population as other counties, the instances of premature death were much lower. Rates of teen birth and cases of sexually-transmitted disease were well below averages.
Putnam Hospital Center spokesperson Marge Schneider said the hospital welcomed the news.
"It's nice to get the designation, but you can always improve and that's what we are trying to do," she said. "It's nice to get the designation, but you can always improve and that's what we are trying to do."
Schneider said that a board of volunteers from the community, alongside health professionals at the facility, always are looking for new ways to improve health and preventative care services for the county's residents.
According to the study, the number of Putnam County residents who do have health insurance was well above state and national averages. Overall, Putnam County ranked No. 1 among all other counties in the portion of the study that examined social and economic factors.
"I would invite anyone who is looking to purchase a home, to find a good environment to raise their families or to retire, to look at Putnam County. We have a terrific, peaceful environment," County Executive Odell said. "We offer everything. It's a place you can come and make a great life and make a great living," she said.
President of the Putnam County Economic Development Corporation [EDC] and Chairman of the Putnam County Industrial Development Agency [IDA] Kevin Bailey said the No. 1 ranking is a distinction that could be very attractive to businesses looking to relocate.
"That is huge," he said.
But there were other areas where Putnam County didn't rank as well as some of the other counties.
The statistics for adult obesity and excessive drinking were a littler higher than state and national averages and the number of fast food restaurants in the county exceeded other averages.
While Putnam County didn't rank at the top for access to recreation, a closer look at the study revealed that it only took into account brick and mortar facilities, that may have not included the Putnam County Bike Path and the myriad hiking opportunities.
County Executive Odell wanted to credit the many volunteer and non profit groups that do community outreach and recognize them for contributing to the No. 1 ranking.
"Not a week goes by that you don't see a sign up for a blood drive or a health screening," she said. "Our county health department also does an outstanding job."
At present the Putnam County Department of Health does not have a permanent commissioner, but County Executive Odell said that pending state approval, the appointment is imminent and could be announced at soon as this week.
In addition to having healthy and happy residents and using the ranking as a marketing tool to attract businesses, being named No. 1 in the state is extremely attractive to potential home buyers, said Barbara Sawin, who has been a real estate agent with Houlihan Lawrence in Jefferson Valley for the past six years.
"These statistics speak for themselves and as a realtor living and working in Putnam County, I couldn't be more proud," Sawin said. "It is wonderful to be able to provide this information to potential buyers looking for a healthy lifestyle in a county that is affordable and only 50 miles north of New York City."
According to statistics provided by Houlihan Lawrence, 20 percent of people who buy a home in Putnam County are relocating from the city – making that mention of the No. 1 ranking in the New York Times last week all that more notable.
With the celebration on, County Executive Odell said the work would continue to make sure Putnam County stays at the top.
"Now that we own it, we are not giving it back," she said.