Putnam County Gov't and Schools Closed Until Monday
We are part of The Trust Project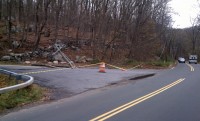 Power outages, downed trees and closed roads as a result of Hurricane Sandy have obstructed any sense of normalcy for Putnam County. County Executive MaryEllen Odell has declared that the county be considered in a state of emergency and that government offices will be closed until next week. Most schools will also remain closed and a ban on non-essential vehicles on the roads remains in effect.
The closures are due to lingering widespread power outages and significant road closures.
As of Wednesday, there were 115 roads closed in Putnam County and NYSEG and Central Hudson reported that of the 38,019 Putnam County customers, 34,087 or 80 percent are without power.
Outages account for 99 percent of Kent and Putnam Valley, 93 percent of Patterson, 89 percent of Carmel, 80 percent of the Village of Brewster, 56 percent of Southeast and 31 percent of Philipstown.
"There are 3 line crews and 3 tree crews working to restore service in Putnam County," according to Southeast Councilwoman Liz Hudak who has participated on conference calls with the utility.  "NYSEG has an equal amount of crews servicing their customers in Westchester and Dutchess counties which also have been hard hit by the storm."
County Legislator Roger Gross said that NYSEG has worked with the local municipalities to create a priority list. The top priority is to fix the nine transmissions lines that are out. Then NYSEG will work to clear main roads so crews can work on the lines. Restoring power to nursing homes, hospitals, emergency service facilities is then the priority, followed by commercial zones, traffic lights and finally residential properties.
"NYSEG is working hard to restore power for at all levels," said Gross.
NYSEG has reported that it could take up to 10 days to fully restore power to its customers countywide.
All area school districts have decided to remain closed on Thursday, Nov. 1. The Mahopac, Putnam Valley, Haldane and Lakeland school districts have also said they will be closed on Friday, Nov. 2.
In the meanwhile comfort stations will remain open.
Putnam County has opened its Putnam Valley Senior Center and the William Koehler Senior Center as comfort station, which will be open from 8 a.m. through 9 p.m.
Other comfort stations include: United Cerebral Palsy, 15 Mount Ebo Road South, Brewster (7 a.m. through 7 p.m.), Patterson Recreation Center (6:30 a.m. through 9 p.m.),  Philipstown Recreation Center (8 a.m. through 4:30 p.m.), Carmel Town Hall (9 a.m. to 5 p.m.), Kent Town Hall (9 a.m. to 5 p.m., Temple Beth Shalom, 760 Route 6, Mahopac (until 10 p.m.) and  Butterfield Memorial Library (until 8 p.m.).
Towns are working with NYSEG to organize the distribution of dry ice and water.
"In this challenging time, it is requested that we remember to check in on friends and neighbors who may be in need of assistance and are unable to reach out for help," said Odell. "We want to thank the first responders, especially the highway departments, utility workers, fire departments, EMS staff, ambulance corps, police, sheriff's department and everyone who put the families of Putnam County residents before their own.  Know that your County Government is doing everything that it can to ensure the safety of its residents."