Putnam County Gears Up For Cycling Classic
We are part of The Trust Project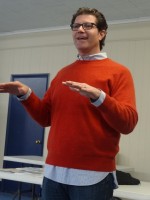 Hundreds of cyclists and thousands of spectators are expected to be on hand for the second annual Ridge Hill Putnam Cycling Classic on Sunday May 5.
Organizers of the event held a news conference and residents' forum on April 23 to detail specifics and allay people's concerns regarding street closures and the influx of some 400 cyclists and thousands of spectators.
"It's a great coordinated effort by the Putnam Sheriff's Department, plus there will be seven police officers from Cold Spring Police who will be along the route as well as members of the village fire department," said organizer Ray Fusco, "Phillipstown's  EMS workers will be on hand, others will be on call."
The Cycling Classic features two courses, one which runs 79 miles, with 6510 feet of climbing, the other a 39 mile ride with 2992 feet of climbing.  Both courses start and end in Cold Spring and are fully timed with technical support, feed zones, broom wagons and chip timing.
"There's been a specific thoughtfulness on the entirety of the event based on the recent activities in Boston.  All of the local agencies are paying very close attention to the footprint and communicating very closely with everyone to ensure all the necessary precautions are taking place. This is a much smaller event than what was held in Boston but our agencies are all taking it very seriously," Fusco said.
He adds there will be a rolling closure of streets from 10:20 a.m. until about 10:45 as cyclists ride out of the village. The second would be around the race's finish time as cyclists make their way down route 301, onto Peekskill Road and 9D and onto River Road which becomes Fair Street at the finish line.
He predicted the first finishers will return around 12:15 to 12:30 for the short course, and around 1:30 p.m. for the long one.
Riders for the long course will compete according to age-group rankings, and the top 25 percent in each age group will qualify for a berth in the UCI World Masters Championships in Trento, Italy in September.
"Cyclists participating in this year's ride will be witness to our dramatic Hudson River scenery and then traverse all six of our historic towns," said Libby Pataki, Director of Putnam County Tourism, "We are rolling out the welcome mat in our towns and villages to showcase our wonderful county but what people will enjoy the most will be our great cycling terrain and conditions, second to none in the metropolitan region."
The cycling event is part of a weekend of activities to be held rain or shine May 4 and 5, dubbed the first annual Pedal Into Spring Festival. Pedal Into Spring celebrates the arrival of spring with a flower festival, local vendors and live music as well as numerous events for children.  In addition, specials will be offered at shops, restaurants and cafes in the Village of Cold Spring on both days.
Sunday's activities includes a bicycle decorating contest and a parade for children to coincide with the Cycling Classic. The event is free and open to the public.
The Ridge Hill Putnam Cycling Classic is slated to begin at Dockside Park in Cold Spring where cyclists will gather early in the morning on May 5 until the race officially begins at 10:30 a.m.
Fusco says the end of the race, which will feature a photo finish, has been moved from Fair and Cross Street to Fair Street by Mayor's Park to accommodate an event being held at Our Lady of Loretto Church that afternoon.
Off-site parking will be situated at Haldane High School as well as the former Butterfield Hospital. Special shuttle bus service will ferry attendees to the Main Street area.
For complete route and map information visit www.putnamcycling.com.