Putnam Conservatives Pick McConville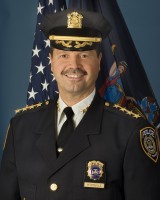 Sheriff Don Smith has held office for more than a decade, but he won't have the backing of the Conservative Party as he seeks a fourth term.
Instead, the party chose Kevin McConville, a former MTA Police chief and one of Smith's opponents in the upcoming Republican primary in a vote Putnam Conservative Chairman Jim Maxwell said wasn't particularly close.
"A lot of people are either tired with [Smith] or not happy," said Maxwell, speculating as to why the committee didn't back the sheriff's re-election bid.
The race is still likely to come down to the Sept. 10 Republican primary, as McConville would have a difficult time unseating Smith without a major-party nomination. The Conservative Party's backing gives McConville a lift, though, as Smith has failed to consolidate establishment support.
"I think it sends a message that my vision, experience and the skills that I have after being a police officer for nearly 30 years" and serving as MTA Police chief, McConville said, "I think that resonates with the people."
The committee's decision makes it imperative for Smith to win the Republican line, as he may otherwise not be on the ballot for November's general election. It won't be the first time the sheriff has been in a tough primary race; he narrowly edged out former Southeast judge Jim Borkowski for the Republican line in 2009, and in 2001 he beat then-incumbent sheriff Robert Thoubborn in the primary.
"I was not expecting the Conservative endorsement from the committee based on the political overtones that exist in the county," Smith told The Putnam Examiner. "However, I am the true conservative that is running for sheriff."
Smith added, "I'm the true Republican. I've been a Republican my whole life. I've never changed parties." This was a swipe at McConville, who in 2009 ran as a Democrat against Smith.
Andrew DeStefano, a former NYPD captain who announced he is also seeking the Republican line, did not reach out to the Conservative Party, Maxwell said.
Incumbency carried little weight at the committee meeting, as the party also backed former Putnam district attorney Kevin Wright over Legislator Anthony DiCarlo for DiCarlo's District 9 seat.
"I think it speaks to a broader base of support," Wright said. "In general, Republican voters tend to be on the conservative side."
DiCarlo, Maxwell said, didn't contact the committee.
The committee also gave it's backing to District 6 Legislator Roger Gross and District 5 Legislator Carl Albano in their bids for re-election.
Unlike major-party lines, winning a third-party committee's endorsement nearly guarantees a candidate will be on that party's line in November.