Putnam Appropriates Funds to Keep PARC Preschool Open
We are part of The Trust Project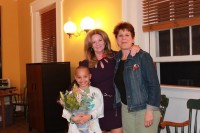 Putnam has helped PARC keep its preschool program open another year.
The Putnam County Legislature voted at its regular monthly meeting 8-0 to have County Executive Mary Ellen Odell appropriate $150,000 to help fund PARC Preschool in Mahopac.
Since the county is in the middle of its fiscal year, the county charter states that only the county executive can allocate funds not originally written into the county budget.
The legislature suggests that Odell use surplus sales tax dollars to pay for appropriation.
The $150,000 would fund the school from program from July 1 through Dec. 31.
"During the budget process we can reach out to Westchester and Dutchess counties, who also benefit from the program, to join with us to fund the second half of the year," said Leg. Sam Oliverio who brought motion to the floor.
Oliverio noted that if the school closed Putnam children would have to face up to two-and-a half- hours on a bus.
"The county would still have exceptional costs in transportation and tuition," said Oliverio. "Whereas if we can utilize the PARC program it cuts back our transportation costs and the tuition is less."
At an emergency legislative meeting held on April 26, Dr. Allen Beals, commissioner of the Health Department, said preliminary numbers indicated that having to bus the children to other programs will cost the county more money.
"This is a stop gap," acknowledge Oliverio. "It is a Band-Aid, but it gives PARC and all of us time to go to our state and federal representatives and say, 'What are you doing?'"
Leg. Dini LoBue agreed.
"This is just a safety net to give the school an opportunity in one year to secure funding hopefully through the state," she said. "The money that is being spent at the county level is not a priority. This is a priority—people over goods."
Leg. Anthony DiCarlo said Albany lawmakers are currently in discussions to restore the $90 million that was cut from the budget.
If Albany restores the funds, the county would be reimbursed for its contributions.
Nevertheless, Leg. Barbara Scuccimarra, who voted in favor of the resolution is concerned over the precedence it sets.
"I caution that there will be other organizations out there that will be in the same circumstances as PARC and what do we do then," she said.  "This is only a Band-Aid. We need to get to the root of the problem and hope that the state comes through."
Although Odell claims in a letter to Oliverio that the surplus sales tax revue has been 'overflated,' she has committed her support to help fund PARC for the next school term.
"I will commit the use of $150,000 to enable us to continue to provide important education to our children as we continue to focus on realizing the underlying problem," Odell said in the letter.
PARC announced on March 20 that it would be closing its 59-year old preschool program, located at 125 Baldwin Place Road in Mahopac, due to a long-term funding issues and program deficits related to reimbursement rates.
The Legislature's Health, Social, Educational, and Environmental members also passed a resolution on April 12, 2013 urging New York State Governor Andrew Cuomo to reconsider the funding that the preschool currently receives.
PARC preschool currently has 53 children, ages 3-5, enrolled in the program. Of those 53 children, 42 are graduating in June. PARC preschool currently employees 47 full and part time staff members. In addition to school-based programs and services, the preschool staff members also perform 70-80 multidisciplinary evaluations annually.
"I know this was an extremely difficult few weeks," said PARC Executive Director Susan Limongello.  "I really appreciate your understanding the need of the school, the need of the children we serve. So we have one more year and I just want to tell you that I am going to do the best this year to get out funding to where it should be, to help you with transportation costs and do everything else I can to make sure that this school is successful on its own."
The PARC Board of Directors were expected to hold a special meeting on Monday, May 6, to vote to accept the county's grant and keep the preschool open.
PARC's executive management team and PARC Preschool Director Jane Curtin continue to work with the New York State Education Department to increase our preschool rates.
–Faith Ann Butcher