Pumpkin Glow Planned at Desmond-Fish Library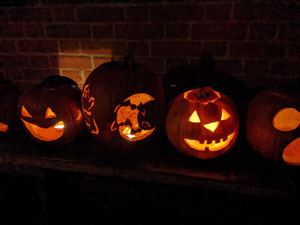 The whole family is invited for an evening of mini-games, ghouls, and pumpkins galore at this year's Pumpkin Glow at the Desmond-Fish Public Library in Garrison.
Visit the library anytime between 5:30 and 8 p.m. on Sunday, October 24 and your family group will be led on a spectacularly spooky pumpkin glow quest through a field of frightening and funny pumpkins. Wear your best costume and get ready for a night you won't forget! This event is suitable for all ages but younger ones should come before dark for a less spooky experience.
We count on community creativity for this event and would like to invite anyone aged 13 and older to join us on Saturday the 23rd at 11 a.m. to help create a spooky atmosphere for the glow. And just like last year, we are seeking carvers to carve the pumpkins for the event. The library will purchase 50 pumpkins that people can reserve. If you would like to be one of this year's carvers, please call the library at 845-424-3020 or reserve your pumpkin/s at http://bit.ly/DFPLpumpkin while supplies last. Then just pick up your reserved pumpkin, carve it and return it to the library by Saturday, October 23, or before 3 p.m. on Sunday the 24th. If you would like to purchase your own pumpkin to carve and add to the glow that is okay too!
We hope carvers will also help by picking up their masterpieces after the event is over to enjoy at home for Halloween!
While masks are not required outside, a mask is required for anyone two and older inside the building including the use of the bathroom facilities. This event is supported in part with funds from the Friends of the Desmond-Fish Library. For more information about the Desmond-Fish Public Library and its upcoming events, please visit www.desmondfishlibrary.org or call the library at 845-424-3020.