Prosper Communications, Carmel
We are part of The Trust Project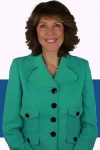 One of the toughest hurdles a business can face is getting the word out about a product or service they offer. Lisa Kaslyn and Prosper Communications offer public relations chops to make it easier to leap over that obstacle.
Kaslyn, who owns Prosper Communications, marked her business's ten-year anniversary earlier this year. She started her business back in January 2008.
"I help clients tell their story through public relations (PR) strategy development and implementation, including media relations, public speaking, presentation development, search optimized digital content development and social media," Kaslyn said.
After working in the corporate world for many years, Kaslyn started to consider opening up her own PR shop because her job at the time was becoming increasingly toxic and personally unfulfilling.
"It took a while for me to put my doubts at bay, but the need to blaze my own trail and pursue a career that could be molded based upon my unique skills and the lifestyle that I wanted eventually outweighed my hesitation," Kaslyn said.
As a teenager, Kaslyn always had an interest in dispensing news to others. She recalls wanting to become a reporter, but didn't end up pursuing it. Then, when she returned to college in her early 20s, she had an advisor that suggested PR would be a perfect fit for her. Funny enough, Kaslyn at the time didn't know anything about the field.
"I had no clue what public relations was," Kaslyn, of Lake Carmel, said. "Suffice to say, I took to it like a fish to water."
The company Kaslyn interned for ended up hiring her while she was still in school because of how well she exceled. She loved using her creative side as a writer and storyteller and also got to work with journalists. It was exciting to see the fruits of her labor in newspapers, magazines, and on television, she said.
Currently, Kaslyn stays plenty busy working with large and small businesses and with consultants and non-profits. Clients typically come from Westchester and Putnam counties, as well as New York City and Connecticut. Her expertise includes the photo industry, travel and education, and start-ups in any type of industry.
Her communication firm is doing Amazon coaching for businesses interested in moving into that channel. Prosper Communications also has a new Facebook group called Small Biz Mastermind Rodeo and a podcast called Small Business Rodeo that helps local small businesses deal with challenges they face, along with providing educational content from other businesses that have a solution to their problem, Kaslyn said.
For Kaslyn, challenges for Prosper Communications differ depending on the stage and maturity of one's business. She said it can be difficult to balance the right strategic communication implementation for clients who can seem enthralled by the latest shiny new social media platform.
As for a philosophy she carries with her day-to-day, Kaslyn stressed PR is not advertising and search engine optimization is certainly not about gaming Google's algorithms.
"Think of your business as a media company and plan your marketing in part around storytelling that it not only self-serving but brings value to the community," Kaslyn explained in detail. "A local newspaper or blogger is more likely to be interested in that versus a promotional offer. That's what advertising is for.  As you build reputable content, you build your brand as a source of useful information. Posting the information to your website and promoting it via social media will contribute to your organic SEO ranking relative to those keyword phrases that relate back to your core business offerings and expertise."
Kaslyn is teaching a Social Media 101 course March 28th for the Women's Enterprise Development Center (WEDC). If you interested in learning more, visit their site at wedcbiz.org. Kaslyn can be reached at 845-225-7571 or emailed at lisa@prospercomm.com.