Proposed Westchester Budget Holds Line on Taxes, Lays Off 126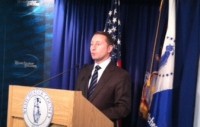 Westchester County Executive Robert Astorino released his proposed budget for 2013 last week with a flat property tax levy and 126 county jobs headed for the chopping block come December 31.
The $1.7 billion budget accommodates $97 million in spending increases and a flat revenue projection of $12 million (1 percent increase) by borrowing pension funds from the state, bonding to pay off tax certioraris, and laying off 126 employees, to cover the resulting $85 million gap.
Expenses without the cuts and borrowing were projected at $1.79 billion.
Speaking to a packed house of government officials, business representatives and members of the news media on Wednesday afternoon, Astorino referred to unfunded spending mandates from New York State as the most critical financial issue facing Westchester County. "We give but we don't get," Astorino said. "Albany is the absolute core of [our] spending problem. Unfunded mandates account for 85 cents of every dollar we take in, leaving 15 cents on the dollar for things we want to do."
The tax cap is no help either, according to Astorino. "Without mandate relief it is a complete farce, a cruel joke on people," he said, calling on state legislators to do something about it.
Astorino explained that protecting the county's AAA credit rating and it's reserve fund were of paramount importance. "We can control that which is ours," he said. "If you look at what just happened in the past two weeks with Hurricane Sandy, I think that's a prime example of why we need to be very careful with our reserve fund. We are very lucky in the sense that we were declared a federal disaster area and the designation will help us recoup many of the costs associated with this [storm]. Unforeseen circumstances in the future where we may not get that designation and we may not get aid from the state and the federal government and we would be completely on our own; it is important that we have the money before that happens," he said.
With a budget approaching $2 billion and projected revenue growth of only about 1 percent of that, Astorino said the county faces some serious decisions, which to him were like drinking sour milk.
A quick review shows that revenue from property taxes will remain the same at $548 million in 2013, and the county's portion of the sales tax is projected to increase by $12 million, about 3 percent, for a total of $376 million. State and federal aid is expected to be flat.
On the cost increase side, the county's share of Medicaid is up $8 million (to $224 million) in 2013, employee pension costs are up $12 million (to $91 million), employees' healthcare is up $5 million, and salaries are up $15 million.
"It is a labor driven juggernaut. Despite all efforts, expenses are going to rise by about $97 million and of that, 82 percent has to do with labor costs, salaries and increased benefits," Astorino explained. "This has nothing to do with our employees, they are terrific," he added.
On the healthcare costs front, Astorino explained that there had been some progress because non-union employees and management have been paying for health care since 2010 and three contracts had been settled with the Teamsters and corrections and security officers unions where they are beginning to pay a portion for health care.
Astorino said he was dismayed and disappointed that the largest union, the CSEA (Civil Service Employees Association), had chosen to break off negotiations and not reach a settlement by the time this budget was finished. He indicated that if the CSEA had agreed to pay the same percentage of their healthcare costs as the three other union contracts negotiated by the county had done, the county would not be forced to make layoffs.
Indicating that there was still time for negotiation, Astorino emphasized that he would not put a savings into the budget unless a deal was actually negotiated and signed off by the Board of Legislators by the December 27 deadline. "I am not playing those shell games. Today those savings don't exist," he said.
Astorino indicated he did not want to borrow to fill the budget gap, but he did it because it minimizes the impact. "If we didn't do that, we would have hundreds more layoffs," he said.
The layoffs proposed by Astorino will affect most county departments, but fall most heavily on Social Services (75 jobs, a 6.6 percent reduction); Parks (22 jobs, a 8.2 percent reduction); Public Works and Transportation (24 jobs, a 8.7 percent reduction).
In addition to the 126 layoffs, 63 vacant positions will also be eliminated. The 189 job eliminations reflect a reduction of  almost 4 percent in the county's overall workforce of 4,979.
Immediately after Astorino's budget presentation, Karen Pecora, CSEA Unit 9200 president, told the press that the union had put forward a proposal to the county to pay into healthcare, but it had not been accepted. "If Astorino is negotiating, then don't do it in public and don't do it in the press," she said. Pecora also noted that many CSEA employee salaries were very low. So low, in fact that many were eligible for New York State subsidies.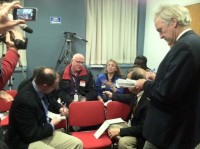 In a press release issued on Friday, Pecora indicated that Astorino's budget cuts were reckless, posing an unnecessary safety risk for county residents. "If it was entirely up to Mr. Astorino, many of these dedicated county CSEA workers would already have been laid off last year and Superstorm Sandy's impact would have been far worse for all residents," the release said.
Pecora further said in the release that Astorino "is demanding the highest contribution rate toward health insurance premiums. We find this unreasonable in light of our willingness to work with the county executive on his Jobs for Savings plan."
During Pecora's discussion with the media she also indicated that if the CSEA did agree to pay into healthcare, they expected a guarantee there would be no layoffs during the entire term of the negotiated contract.
Board of Legislators Majority Leader Peter Harckham (D/Katonah) and Legislator William Ryan (D/White Plains) also expressed concerns after Astorino's presentation during a brief meeting with members of the press.
"The budget is not a Powerpoint presentation," Harckham said. "For every line in the budget there is someone who is receiving a service and someone who is providing a service, or there is a taxpayer paying for that service. That's what we [the BOL] take very seriously for all 6,000 lines of the budget."
When asked what the BOL's position was on the standoff between the county executive's office and the CSEA, Harckham said the BOL is not involved in negotiations, but he did note that the cuts in healthcare costs for the three unions agreeing to pay a percentage for health insurance were not as big a savings as one might think. "Because of retroactivity built into the agreements on salary hikes, the Teamsters' 18 percent pay increase actually pays for the 15 percent healthcare contribution. It is not an immediate panacea," Harckham explained. "The money will be saved down the road."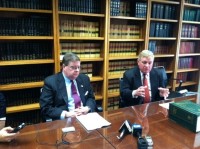 Ryan explained it is the job of the BOL to go through the budget line by line analyzing the impacts to make sure it adequately supports county government in its role as a regional provider of services and programs for residents. "We need to be concerned about cuts in personnel that will impact essential programs and services," he said.
Harckham agreed. "Social Services is a good example," he explained. "Many of those [positions] are grant funded, which means three-quarters of every dollar is actually grant funding. In order to save a dollar, he [Astorino] may have to get rid of four people to save really the cost of one."
Both Harckham and Ryan agreed with Astorino that unfunded mandates put the most burden on the county's operating budget. "Borrowing removes costs from the operating budget, but it is a red flag," Ryan cautioned.
In a press statement released Thursday, BOL Chairman Ken Jenkins (D/Yonkers) said "Westchester County has never bonded for tax certioraris, and the practice has caused great problems for places like Nassau County."
Further budget actions include the elimination of all funding for the neighborhood health centers in Ossining, Peekskill and Mount Vernon. "They do valuable work, but don't need the $2 million the county gives them," Astorino claimed.
The day care contribution rate will continue to the full 35 percent in 2013. Acknowledging this is a hardship for people Astorino explained that by raising the contribution rate, "we can still fully fund it if everyone pays a little bit more for their family. We are not breaking ground on this," Astorino contends. "New York City and 20 other counties are already at 35 percent. This is a necessity to balance the budget and keep kids in day care."
The county's six park and nature center curator positions will be reduced to three, but all parks and nature centers will remain open.
No cuts will be made to the county's Bee Line bus service and the county will continue to support safety net programs, especially for women. Funding for the Cornell Cooperative was reduced to $600,000, the $750,000 ArtsWestchester grant  has been maintained, and Legal Services of the Hudson Valley will receive an additional $50,000 to the $1.7 million allocation to expand programs out of the Peekskill office for veterans, seniors and victims of domestic violence, eviction and foreclosure proceedings.
The county's capital budget is $198 million, an increase of about 33 million over 2012, with funds earmarked to continue infrastructure fixes. The general fund is  $109 million.