Business Profile: Progressive Animal Hospital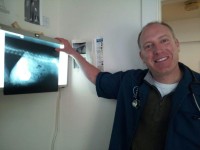 Progressive Animal Hospital opened its second location in White Plains last Friday in the same building that houses Best Friends Pet Care at 110 S. Kensico Ave.
The office is the next step for veterinarian Dr. Andrew Frishman, whose original office is in Somers. Both locations feature a comprehensive approach to pet care that combines the technology of modern medicine with the ancient techniques of Chinese medicine. When appropriate, this may include the use of acupuncture and Pulsed Signal Therapy on pets, which Frishman said can lleviate a multitude of chronic disorders.
Frishman's patients include just about every kind of small animal and pocket pet–dogs, cats, rabbits, guinea pigs, ferrets, chinchillas, hamsters, gerbils, mice and rats as well as some exotic species.
X-rays, ultrasound and endoscopy are part of the routine services offered, along with vaccinations, neutering/spaying, checkups, dental care and wellness care. Frishman said his mission is to offer patients the most up-to-date care at reasonable prices, which is why he keeps his practice personal.
"People can find themselves in the situation where they are making life and death decisions for their pets because they cannot afford something like a $7,000 surgery," Frishman explained. "There are other options that can be considered, which many veterinarians do not offer."
The concept of performing acupuncture on a pet may seem odd and perhaps difficult at first, but Frishman said it's like getting a massage. Most of the animals fall asleep during the process. He prefers to use Chinese medicine for chronic illnesses such as arthritis in older dogs, animals with epilepsy and those who suffer from hip dysplasia, incontinence, asthma or allergies.
Frishman said most chronic illnesses are symptoms of an underlying imbalance. For example, in Chinese medicine, the different types of arthritis are symptoms.
"You have to get to the root cause," Frishman explained.
For this reason, when an animal comes in its first visit, there's an extensive questionnaire that must be completed.
"If an animal has a good diet, exercise and healthy lifestyle, that pet will be happy," said Frishman, adding that the modern lifestyle can cause imbalances.
Frishman has always loved animals. When he completed his bachelor's degree in behavioral neuroscience at Lehigh University, he decided to become a veterinarian. He earned his doctor of veterinary medicine from the University of Tennessee at Knoxville. He approaches his job by scrutinizing the latest developments in veterinary care, and when he's convinced of its value, he incorporates them into his practice.
Because of his interest in holistic health, Frishman became a certified veterinary acupuncturist by attending the Chi Institute and earned a Certificate of Proficiency in Western Herbs from the Australian College of Phytotherapy. He also is one of the first veterinarians in the county to offer Pulsed Signal Therapy to treat osteoarthritis and musculoskeletal disorder as well as genetic testing to identify and prevent disease and chronic age-related illness, particularly in breeds predisposed to specific maladies.
Frishman said advances in veterinary pharmaceuticals give him more options than ever in curing acute disease, but he believes long-term use of synthetic drugs to treat chronic conditions can have toxic side effects. Therefore, whenever possible, he uses milder, traditional medicines and diet.
His new White Plains office is open Mondays from 4 to 7 p.m.; Tuesdays 8:30 a.m. to 3 p.m.; Wednesdays 4 to 6 p.m. and Fridays 8:30 a.m. to 3 p.m. Hours are also available on Saturday. For more information or to schedule an appointment, call 914-461-3353. For a comprehensive explanation of Frishman's services and methods, visit www.progressive-vet.com.