Opinion Advocates for ideas and draws conclusions based on the author/producer's interpretation of facts and data.
Prime Pub is a Flavorful Visual Experience
We are part of The Trust Project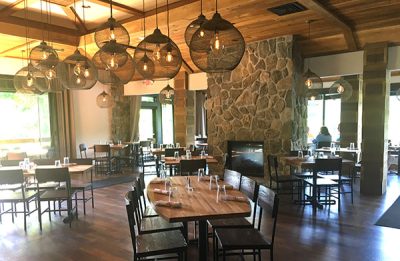 By Morris Gut
I had heard of Prime Pub, a relatively new restaurant in Somers, through the grapevine. A veteran restaurant guy takes over and revamps a former Chinese eatery and turns it into an airy, inviting, multigenerational American gastro pub.
Proprietor and dynamic restaurateur Simi Polozani, founder of Prime Pub restaurants in Bethel and Danbury, Conn., opened his latest destination in January on Route 202 at the entrance to Heritage Hills. It is a worthy, flavorful destination for diners throughout the region.
Walk in and you notice the extraordinary setting. The freestanding building sits at the edge of a big pond, which can be seen through large picture windows, a seasonal fireplace highlighted with wood and stone, an attractive dining room with tables that are well-spaced, contemporary ceiling lighting and a semi-enclosed bar and lounge area for schmoozing and munching.
Best of all, the staff are all about hospitality from the moment you enter. Something that trickles down from Simi, I guess, who obsessively makes the rounds of his establishment, offering smiles and chatter to all who enter.
We visited on a lovely late weekday afternoon and found ourselves in the comfort zone as soon as we took our seats at the bar. Joleen, our waitress and bartender, was most cordial. I ordered a local Industrial Arts IPA and just took in the surroundings for a while. The views are soothing.
The kitchen is the domain of Chef William DeLuca, who had previously put his talents to work at Terra in Danbury. We got our meal going with a sharable order of Rhode Island-style calamari, a very ample portion served in a metal bowl with spicy chipotle mayo and marinara sauce on the side for dipping. We decided to bag half of it and leave room for our next course.
We followed with their Prime Pub Salad, a large colorful platter loaded with fried goat cheese, mixed greens, walnuts, oranges, dried cranberries, thinly-sliced apples and garlic croutons bathed in a raspberry vinaigrette. Had to try their decadent-sounding Burrata Burger, stacked with baby arugula and roasted red pepper served on a brioche bun with pickles and sliced red onion on the side with our choice of fries. We did our best but ended up taking home half the salad. Made for great snacking the next day.
In future visits, I have my eyes set on the eggplant tower, the beet and baby arugula salad, honey goat cheese flatbread, and their blast from the past, beef stroganoff.
Prime Pub is located at 249 Route 202 in Somers, across from DeCicco & Sons. Open seven days a week for lunch and dinner. There's also Sunday brunch, craft beers and a kids' menu. Info: 914-617-9818 or visit www.primepubgroup.com.
Hard Cider Fest & Brews
Boscobel House and Gardens in Garrison will again be hosting the annual New York Hard Cider Festival this Saturday, June 25, from 1 to 6 p.m. The event will highlight more than 20 regional apple cideries and artisan cheese purveyors, including Second Mouse Cheese Shop in Pleasantville and Acorn Hill Farm of Pine Plains. For info and tickets, visit https://boscobel.org.
Hops on the Hudson will hold its second annual Brews With Views at Mayor's Park in Cold Spring on Saturday, July 16, from 2 to 6 p.m. More than 50 regional microbreweries and food artisans will be offering tastings, including Dutchess Dog House, Khmer Style Egg Rolls & Dumplings, Wolf & Warrior, Captain Lawrence, Sing Sing Kill Brewery, Industrial Arts Brewing Company, Decadent Ales, Chatham Brewery and Broken Bow.
For info and tickets, call 845-661-1557 or visit www.hopsonhudson.com.
Shah's Halal on its Way
Shah's Halal Food, a restaurant chain throughout the region and Great Britain, will be opening a franchise on Mamaroneck Avenue in White Plains. A large sign is up across from City Center, and they are now hiring. Shah's, which started as a food cart in Queens in 2005, will offer certified halal specialties.
What is halal? The preparation of the food and drink must adhere to Islamic law. The menu will offer a variety of platters, gyros, sandwiches and salads. Locally, they join The Halal Guys at the Galleria mall and Ambadi Kebab & Grill in White Plains, which also serve halal menus.
Shah's Halal Food will be located at 40 Mamaroneck Ave. in White Plains. Info: 347-381-0411 or visit www.shahshalalfood.com.
AROUND THE TABLE AT NYBG!
The beautiful New York Botanical Garden has launched a new exhibition "Around the Table: Stories of the Foods We Love" that will run through Sept 11. Throughout the park, it will explore the rich cultural history of what we eat.
Across its 250-acre landscape, visitors can gather at tables uniquely designed by artists living and working in the Bronx. The tables will encourage sitting, sharing and storytelling. Throughout the exhibit, there will be weekend programming celebrating food with cooking demonstrations and other culinary-themed activities. You can watch the planted produce and grains as they mature throughout the season.
The 2022 NYBG Farmers Market has started again, operating on Wednesdays from 10 a.m. to 6 p.m. through Oct. 26. The popular market is run by Morning Glory Markets, which operates markets in Westchester featuring a weekly variety of produce vendors, bakers, specialty food purveyors and crafts.
The director is Pascale Le Draoulec, a former restaurant critic for the New York Daily News. Look for vendors such as Wave Hill Breads, Bombay Chutney Co., The Orchards of Concklin, Don Pickle, Ztudio Zsa Zsa and more. Admission to the market is free.
Special Hint: While at the Garden, hunt down the "Julia Child Rose" that is planted in the stunning Rockefeller Rose Garden now in full bloom. It is amazing!
The New York Botanical Garden is located at 2900 Southern Blvd. in the Bronx. Info: 718-817-8700 or visit www.nybg.org.
Morris Gut is a restaurant marketing consultant and former restaurant trade magazine editor. He has been tracking and writing about the food and dining scene in greater Westchester for more than 30 years. He may be reached at 914-235-6591 or gutreactions@optonline.net.