Preserving the Roll of Honor in White Plains
We are part of The Trust Project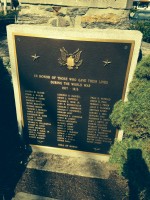 On a small wedge of land at the entrance to White Plains where the Post Road meets Maple, there stands a memorial to residents who died in service to their country during World War I, 1917 to 1919.
The monument, once a majestic tribute to those who paid the highest price, is now broken, pieced back together, and lost in the landscape at a busy traffic intersection.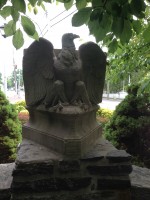 Howard Waldman, co-president of the White Plains Council of Neighborhood Associations and a Trustee of the White Plains Historical Society, told The White Plains Examiner that originally the monument was majestic, with the eagle at the top and a book inscribed with the names on the honor roll. "Today, the book is disintegrating. The names can't be read. And, at some point the eagle's head was broken off and a bad replacement added."
"Until recently, the area was over grown with brush. Bottles, cans and paper were strewn all over. The White Plains Historical Society pointed this out to the city. Public Works had the area cleaned up. The bushes were trimmed and the whole area is nicely covered with mulch. Credit must go to Jack Harrington, former president of the White Plains Historical Society for saving the remnants of the old monument and having the bronze plaque added," Waldman said.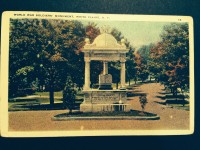 "Thanks to the City for making the monument more presentable," he added. "My only suggestion would be to add a flagstone path in front of the bronze plaque. That would be better than walking on mulch, which will only blow away."
Waldman also would like to see the eagle's head replaced with a better match, and the remnants of the original monument replaced with a replica. "Perhaps, monies could be raised for that endeavor," he said.
On the other side of White Plains at the entrance to the Battle Hill neighborhood where the famous Battle of White Plains was fought during the Revolutionary War, another group fights for a Veteran's Park to honor White Plains veterans of all wars.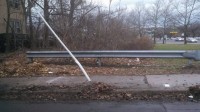 A recent post on the group's Facebook page (White Plains Veterans Park) reads: "In 1997, the White Plains Common Council dedicated a 1.41-acre parcel along Tarrytown Road, bounded by Chatterton Avenue, Robertson Avenue and Hunt Place as parkland for a Veteran's Memorial Park. Since then, city officials and community members have discussed the idea, but never made any major steps to proceed with the plans until the council unanimously approved the execution of the grant application at its Oct. 26 special meeting." That story was reported in the White Plains Patch on November 4, 2011.
Supporters of that park are asking if in 17 years the only thing that has happened is that the designated park area has become overgrown and filled with trash, is that the way to honor White Plains veterans?