Post-Sandy, Ossining Town Board Prepares for 2013 Hurricane Season
We are part of The Trust Project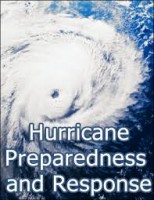 By Maia Silber:  At a town hall meeting on July 16, Ossining Town Supervisor Susanne Donnelly discussed preparations for the 2013 hurricane season. Donnelly described improved communication as central to storm safety, announcing plans to create social media pages that will alert town citizens about storm updates and road closures. The town has also published an emergency preparation guide, which will be available online and at its office on Croton Avenue.
These measures come at the start of the 2013 Atlantic tropical storm season, which experts predict will bring 13 to 20 named storms, up to 11 of which may become hurricanes.  Forecasters at the National Oceanic and Atmospheric Association (NOAA) maintain the Mid-Atlantic Coast has never been so vulnerable to hurricanes.
"It's not a question of if there will be a storm," said Donnelly. "It's a question of when."
Needless to say, storm preparedness has been an utmost concern in Westchester since Hurricane Sandy, which devastated the northeast. Last fall, Sandy left half of Ossining residents without power, dozens of roadways blocked, and boats washed up onto the shore and the tracks at the Ossining Train Station. Numerous live wires from fallen power lines turned many roads into danger zones overnight.
Should a hurricane hit Ossining this season, alerting residents about such zones in a clear and timely manner will be crucial.
"We decided to open a Facebook page and a Twitter account so that we have different ways of getting in touch and keeping people informed," explained Donnelly. "The key is making sure that people have as much information as they can."
Ossining's Twitter account can be found under the handle @OssiningStorms, and will feature regular updates about school and road closures, states of emergency, storm forecasts, and shelter areas. The town's Facebook page, will feature similar news; it will mostly likely be called Ossining Storm Reports. Both social media pages have yet to be activated.
In the meantime, citizens should consult the emergency preparedness plan published by the town, which includes a list of supplies that should be gathered and placed in a "go bag" in case of evacuation. Additionally, the guide advises residents to create a network of support, and includes space to list in-state and out-of-state support contacts. It also includes instructions for developing an evacuation plan, listing the Joseph G. Caputo Community Center as a local shelter.
Besides those efforts on a municipal level, Con Edison has recently invested $1 billion in improvements in Westchester County and New York City, $476 million of which will be dedicated to the company's electric distribution system.
"Sandy was the worst storm ever to hit our region, but was only the latest in a series of violent weather events causing incredible damage to our energy delivery systems," said Con Edison Chairman and CEO Kevin Burke in a press release. "We are making critical investments in the county that will help to better protect our customers from these harsh weather systems."
During Sandy, when many Ossining residents lost power for up to 14 days, the town had difficulty communicating with the company.
"We didn't know where any of the Con Ed people were, where any of the feeder lines were, and our liaison was almost as much in the dark as we were," said Donnelly.
Donnelly feels confident that Con Edison has taken steps to improve its communications with both the town board and residents. In addition to setting up new feeder maps, representatives from the company have consulted with the town about how to send out its crews more efficiently.
Donnelly also discussed two major infrastructure projects that the town has been considering in anticipation of flooding during storms.
First, Ossining has launched a feasibility study to look into replacing the Ossining Boat and Canoe Club, which FEMA has declared a b-zone, meaning that it would be destroyed in the event of flooding. The building would be replaced with a new boat club raised at least eight to 10 feet. Donnelly hopes that with the addition of a restaurant on its second floor, the building could also bring in new revenue to the town.
Currently, the town is looking for grant money to fund the project. "We've spoken to the boat club's board, and we'll be meeting with their membership," said Donnelly. "It's going to be a situation where people will be involved from the get go.
The town will also consider raising the stage at Louis Engel Park by four feet, possibly as a community building project. According to Donnelly, State Senator David Carlucci has expressed support for both infrastructure projects.
More information about these potential projects, as well as other storm preparation measures, will be released by the town in the next few months.