Possible Sick Coyote Spotted in Yorktown
We are part of The Trust Project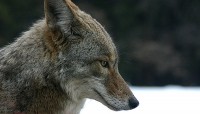 A possible sick coyote has been spotted in Yorktown, according to the Yorktown Police Department.
The police department in conjunction with the town's animal warden received a report of a sick coyote observed by a resident in the Springhurst Street area. The resident saw the animal through a residential surveillance system.
If you observe an animal you believe to be sick, please keep a safe distance, and contact the Yorktown Police Department at
914-962-4141
.
Coyotes, foxes, and various other wildlife are numerous in the Yorktown area, calls must only be made if one is sick or injured. Otherwise no action will be taken by the department.
The police department recommends visiting the New York State Department of Environmental Conservation's website,
http://www.dec.ny.gov/animals/6971.html
, for additional information on preventing negative interactions with coyotes.