Portraits of a Building on Permanent Display at ArtsWestchester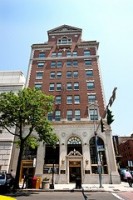 ArtsWestchester is housed at 31 Mamaroneck Avenue in White Plains. The building itself an historical gem was recently photographed by Lynda Shenkman and the show resulting from her work has become part of the arts organization's permanent collection.
The Story of the Arts Exchange: A Photo Essay, opened last month in the building featured in the essay. Local photographer Lynda Shenkman, known for her quality work was asked to do the study.
Using her experience as a portrait and documentary photographer, Shenkman got to work looking at the building as a whole and zooming in on the details. She took a series of amazing photographs that tell the story of the building as well as highlighting its many design features.
Shenkman who says she is not an architectural photographer approached her subject in much the same way she does her portraits and photo documentaries. "I came back to the building three different times to catch the light," she says. "I am always fascinated by the way light catches designs and details."
Some of the shots are from across the street, some are up close. Shenkman says she even had a cherry picker brought into the main gallery so she could focus on the details of the ceiling of the main banking room. "The details are amazing, especially the rosettes in the ceiling. I have walked into that building many times and never really noticed all the beautiful details. I have a new relationship with the building," she claims. Shenkman also did a series of photographs of the bronze doors that bear a similar rosette motif.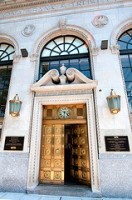 While her show at the Arts Exchange has been a great success and Shenkman has been asked if she will continue to take architectural photographs, her love remains with the photo documentaries she does in third world countries.
Shenkman told The White Plains Examiner about a trip she took to Rwanda last year with a friend, a medical doctor who was working with AIDs patients. She invited Shenkman to document the establishment of a new AIDs clinic.
Shenkman has done similar documentaries in India, Malaysia and South America.
"The camera is an amazing tool," Shenkman says. She takes extreme gratification in sharing her art form with those people she studies. "I gave inexpensive cameras to children in India so they could experience photography on their own. Many of them had never seen a camera before and had never taken a picture or seen themselves in a photograph. I didn't tell them what to take. I simply suggested they to go to the places where they live and pick what was important to them. They went out in groups of threes, each child having 12 exposures of their own. It was so much fun to see them so happy and how interesting their choices were."
At home Shenkman takes photos at corporate events and weddings and is often called upon to do portraits. She has been found shooting at many ArtsWestchester events.
Shenkman says she has become adept at editing photos and getting the most out of each shot. "I do a lot of color correction, adding saturation and contrast" she says. "The computer has become one of the photographer's most essential tools." In the end everything is presented on a DVD.
That is how Shenkman presented her study of the ArtsWestchester building. "I did not know what would be selected for the show," she said.  In fact, she didn't know there would be a show. "I was nervous how it would turn out, but I'm pleased with the outcome."
Currently, Shenkman is interested in photographing people with disabilities and she will travel the world again when another documentary opportunity arises. "The photos tell the story. They capture the heart and the emotion," Shenkman ends. For her, each project is a labor of love.
To view the permanent exhibit at the Arts Exchange visit 31 Mamaroneck Avenue in White Plains or visit artswestchester.org for information. The see Shenkman's photo documentary of India visit lyndaindiatravellog.wordpress.com.