We are part of The Trust Project
If you're looking to spruce up your home with unique, vintage and classic accents you'll want to check out PORCH, a new addition to the retail mix in Mount Kisco's downtown.
Owned by longtime friends and former Bedford Board of Education trustees Jen Gerken and Suzanne Grant, the store opened its doors two weeks ago and plans to celebrate its grand opening with a ribbon-cutting ceremony this Wednesday from 5:30 to 7 p.m. The public is invited.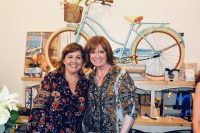 Grant, whose background is marketing and branding, and Gerken, who ran her own interior design business for 10 years, said they both share a love of décor and interior design. Their passion for mixing old with new has developed into a partnership that is a natural fit, they said.
While they began exploring the venture more than a year ago, it took time to find the ideal retail space and the right mix of products they believed local shoppers would find attractive.
"We tried hard to make sure that what we carry is different from everything else you'll find in the area," said Grant, a Mount Kisco resident.
Both women agreed that the 1,400-square-foot space, the former home of Art Emporium, was attractive for its size and large plate glass storefront.
The store's colorful array of inventory includes merchandise from local outfits such as The General Knot & Co. of Bedford, which makes limited edition neckwear and accessories from rare and vintage fabrics from around the world. Some of The General Knot's products at PORCH include its totes and travel kits.
Two new local artisans have been added to the store to provide carving boards and live edge accent tables, Grant said.
PORCH also includes the partners' own line of vintage items called UVO (Unique, Vintage and Original) – upcycled pieces including tables, sideboards, armchairs, rugs and even the fireplace mantle that has been set up at the back of the store. Comfortable chairs, a couch and a rug give the store a homey feel.
The partners have found pieces from collectors and at estate sales, flea markets and auctions that are lovingly restored.
"The PORCH team is adept at upcycling, giving new life to quality older furnishings and accent pieces, using paint, lacquer, stain and designer fabrics," Grant said.
Shoppers can distinguish the store's items by their colorful tags – blue for new merchandise and yellow for the UVO merchandise.
If it's a unique gift you're looking for, PORCH has a wide selection to choose from, including a bath and body section. There are beautiful towels, lotions, soaps and bubble bath, many of them charcoal-infused products.
For the home, there's a range of vintage Steubenville China and a line of chipped enamelware in a variety of colors, Gerken said.
If colorful pillows and throws are on your gift list, you'll find them at PORCH as well. There are handmade blankets from the Ukraine, recycled glass platters from Northern California and the recycled Palmolive dishwasher bottles turned into porcelain vases by Dutch artist Foekje Fleur.
Scarves, gloves and other fashionable accessories are also part of the store's eclectic mix.
Gerken, a Pound Ridge resident, said the store's collection of modern, graphic and unusual items speaks to their sensibilities.
"There is definitely nothing stuffy here," she said.
For both women, PORCH is an outgrowth of their treasure hunting, which they've enjoyed for years.
"Our guiding principle is, do we love it and is it a good design?" said Gerken.
Bottom line, these enterprising women love working with each other.
"And we love seeing our friends and people from the community taking a moment to stop by," Grant added.
PORCH supports local artisans and the community by hosting special events and shopping nights. On Nov. 13, the store will be the venue for a pop-up shop for Extraordinary Ventures, a local organization that creates employment opportunities for individuals with autism and other developmental disabilities.
PORCH is located at 153 E. Main St. It is open Monday through Saturday from 10 a.m. to 6 p.m. and on Sundays from 12 to 5 p.m. For more information, call 914-864-1460 or visit www.porch-home.com.
Colette Connolly is a copywriter and p.r. expert. She owns Connolly Communications, which is based in Bronxville, New York. Colette specializes in providing content-rich, SEO-optimized press releases, articles, newsletters, brochures, and customer success stories.