Popular FrameWorks Series Returns to Jacob Burns
We are part of The Trust Project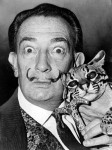 FrameWorks: Art on Film has been a popular series presented annually at the Jacob Burns Film Center in Pleasantville. But if you can't get to the theater during the next week to take in one of the four movies that comprise the series there will be plenty of other opportunities.
Starting this year, FrameWorks will be held at various times of the year, with one program already having been presented in January. The spring series that gets underway this week will run from Wednesday, Apr. 23 through next Tuesday, Apr. 29.
Programmer Kathryn Bonomi said the format has changed because the film center wanted to screen more films than could be shown within the narrow window..
The first night of the new FrameWorks series begins with "Picasso's Gang," the 2013 Spanish film directed by Fernando Colomo. The movie, which will also be screened on Apr. 29, is a drama about the theft of the "Mona Lisa" from the Louve in Paris in 1911. At the time authorities turned their attentions on the poet Apollinaire and his friend, Pablo Picasso, whose "Demoiselles d'Avignon" bore a resemblance to some ancient heads that were also stolen from the museum.
The series continues on Apr. 24 with a program called Inside the New Yorker Cartoon With Editor Bob Mankoff. Mankoff will describe the inner workings of the magazine's cartoon section.
Bonomi said the film center ran a contest on its website asking the public to create a caption for a Mankoff cartoon. Just before the entry period closed last week about 300 people submitted captions, she said.
There will also be an evening devoted to surrealist painter Salvador Dali next Monday, Apr. 28. "Salvador Dali: Tragicomic Genius" is a French documentary released last year that was directed by Francois Levy Kuentz. It will be followed by "Un Chien Andalou," the 1929 surrealist short directed by and featuring performances from Dali and Luis Buñuel. Bonomi said the film still shocks audiences decades after its release.
"It's such a great film," she said.
The spring FrameWorks series will conclude on next Tuesday with "Mona Lisa is Missing," another 2013 film, directed by Joe Medeiros. The documentary tells the story of Vincenzo Peruggia, a house painter from Italy who stole the most famous painting in the world. The director seeks to find out how the masterpiece was stolen and why.
The Jacob Burns Film Center is located at 364 Manville Rd. in Pleasantville. For more information, including ticket prices and schedules, call 914-747-5555 or visit www. burnsfilmcenter.org..