Pollack, Pollack, Isaac & DeCicco, LLP, Peekskill
We are part of The Trust Project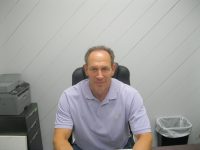 The September 11, 2001 terrorist attacks had a direct impact on immigration attorney and Harrison resident Conrad Pollack
"We were right by the World Trade Center," Pollack recalled last week. "We got shut out of our office for a month. We opened offices all over the place. It was crazy."
"The lobby of my building was a triage center," he said. "It's something you won't forget."
Pollack said that after 9-11 the members of his firm were determined "never to be caught without a second office again."
"We bounced around for the last 20 years or so" with various locations for the firm's second office until Pollack decided to open what he hopes to be a permanent second office in Peekskill in May. The previous second offices in Westchester had only a desk and no secretary, Pollack said.
Pollack said many of his clients live in Peekskill and the surrounding towns. "There's a real need for quality legal services up here, in particular, immigration," he said.
A firm with about 20 lawyers, Pollack said he decided to specialize in immigration law to follow in the footsteps of his late father, Arthur. The second Pollack in the name of the law firm is dedicated to Pollack's father, he noted.
Immigration has been a particularly hot political topic since the announcement by the Trump Administration last week to end the Deferred Action for Child Arrivals (DACA), a program that provides about 800,000 undocumented immigrants who were brought to the United States as children. Pollack, who has been practicing immigration law for about three decades, said immigration laws are constantly changing.
"It's always a political football. More so in the last 10, 15 years," he said.
Pollack said he was concerned that if Congress did not act within the six-month deadline imposed by the Trump Administration to come up with its own DACA plan, he would not be surprised if the federal government would begin deportations.
Pollack said his clients are afraid of what their futures will hold. "People are freaking out," he said.
Pollack said "The Dreamers" covered by DACA whom he represents are like native-born Americans. "You would have a hard time telling the difference between them and somebody who actually was born here," Pollack said. "There are very few differences, if any"
The Peekskill office e of Pollack, Pollack, Isaac & DeCicco LLP is located at 906 South St. For more information, call 914-328-2400 or visit https://www.ppid.com.