Police Remove Massive Mahopac Arsenal
We are part of The Trust Project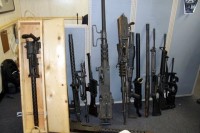 Carmel police discovered a massive arsenal of firearms, explosives and ammunition at a Mahopac home last week, forcing the evacuation of several nearby houses.
Last Tuesday, the Mahopac Volunteer Fire Department and Carmel Police Department responded to the home of Jonathan Orser, a former Marine, to find the 41-year-old man dead, apparently from a gunshot to his chest, at his 303 East Lake Boulevard home in Mahopac. Orser's wife returned home from a social event, Carmel police said, to discover Orser's body. Police said the shooting death did not appear suspicious, but during the investigation it was discovered the victim was a gun enthusiast and may have automatic weapons and explosives on the property.
The wife allowed police to investigate, and the Bureau of Alcohol, Tobacco and Firearms as well as the Westchester County Bomb Squad were called to the scene. At around 6 p.m. Thursday evening, the Westchester Bomb Squad and the ATF found and removed hand grenades and scores of automatic weapons as well as blasting caps, low explosive powder and large amounts of ammunition, Carmel police said.
Investigators then discovered military ordnance stored in the basement and called in a U.S. Army Ordnance Disposal Unit from Fort Drum, which arrived at 5 a.m. Friday to remove the explosives. Houses near Orser's home were evacuated, and the street was closed off to traffic, police said.
The agencies involved recovered six grenades, 21 artillery shells, 1,400 armor piercing rounds, a quantity of the explosive thermite, two boxes of blasting caps and several quantities of explosive powder.
"It's been dangerous to the neighbors, because the amount of ammunition in the ordnance, and the volatility of it, could have caused a very large explosion," Carmel Police Chief Mike Johnson told The Putnam Examiner. "From what I was told, the blasting caps were deteriorating and it wouldn't take too much to set them off."
Johnson said he was waiting for a report from County Coroner Daniel Stephens to determine the cause of Orser's death. The police report said the shooting did not appear suspicious, but the report did not specify whether they believe it was a suicide or an accidental shooting. He said his office is investigating to determine whether anyone would face charges for the ordnance, as most of the weapons and explosives were illegal to own.
"There's a lot of people that are gun collectors and have a large amount of guns, but you don't see that every day," Johnson said of Orser's arsenal. "You would find that in the armed forces. You wouldn't find that in quiet, suburban Mahopac, where someone has six grenades capable of doing a lot of damage."
Orser also had a large street-legal military tank he used in parades, Johnson said.