Policastro and Gunther Rush Auto, Putnam Valley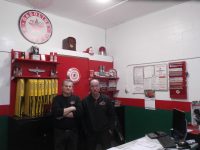 Brian Gunther and Robert Policastro have been friends for more than 40 years, meeting when the two men worked as auto mechanics for a service station.
Fast forward decades later, it seems only fitting the two men are now co-owners of Policastro and Gunther Rush Auto in Putnam Valley where drivers can bring domestic, foreign and classic cars to a couple of old time "automobile doctors."
Gunther and Policastro first met back in the late 1970s when the two men ended up working at the same auto repair shop. Then a few years later the two men owned a business together until a fire destroyed that location. From there, Gunther and Policastro went separate ways with Gunther working at GM for 25 years and Policastro doing car work and traveling the country to play in a music band. (The two men also used to pay in a local band together.)
"It came out of a friendship and enjoying doing what we do," Policastro, who lives in Cortlandt Manor, said.
Rush Auto has been owned by Gunther ad Policastro since 2015. The auto repair shop used be run by local resident Tony Rush and after he died his wife sold the business to them. Out respect to Tony and his wife, Gunther and Policastro felt it was important to keep his name on the building. Rush had owned the auto shop since the 1960s and the location on Morrissey Drive has been around since at least the 1940s.
Originally, Policastro and Gunther just wanted to rent a space in the garage, but ended up purchasing the entire property.  Gunther said they've tried to replicate the interior and exterior of the building to give it an old school look from the 1950s.
Policastro said when it comes to fixing a person's vehicle, "honesty is the best policy."
Gunther, a Yorktown resident, stressed they want to be a good, local repair shop that serves the community. Behind their shop are 800 homes, which Rush Auto relies on, along with friends and acquaintances that know the good work Policastro and Gunther do. Located off the beaten path, word of mouth and presenting great standards everyday is crucial.
Gunther said it's important for the customers to know that the person they talk to about their car is the one actually working on it, instead of where a customer is stuck talking to a representative at a dealership. Gunther said even though he's an owner, he still mops the floors and cleans the bathrooms, as does Policastro.
"Be fair, do a great job at a fair price, do not rip people off, treat them as if they're your own family," Policastro said. "You can stay in business for 35 years if you do that."