Pleasantville Vape Shop Owner: 'We're Being Picked On'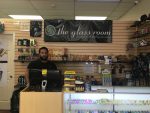 The co-owner of the recently opened vape shop in Pleasantville said last week criticism regarding the presence of his business in the village's downtown is unwarranted.
Mike DiFazio, who opened The Glass Room with his brother three weeks ago, said the community is attacking the integrity of his business and is largely unaware of how his store operates.
Since it became known earlier this summer that The Glass Room would move into 69 Wheeler Ave., concerned local officials and residents have been collaborating to raise awareness regarding the negative effects of vaping. A push has also been made to bolster regulations addressing the sale of e-cigarettes and vaping chemicals to prevent use by minors.
"We I.D. everybody that walks into our store. We follow the law; kids under 18 can't come in here," said DiFazio, who also operates locations in New Rochelle, Port Chester and Stamford. "This is the hardest time we've ever had opening a store. It feels like we're being picked on."
Last month, the Pleasantville Board of Education passed a resolution recommending the village board revise the zoning code to restrict vape shops from opening where youths congregate, including near schools. The school board has called for raising the age for legally purchasing tobacco products from 18 to 21 years old.
The village board has discussed potential zoning regulations to prevent an explosion of similar stores as well as raising the age to legally enter the shop.
"We've never had any problems or issues like this before," DiFazio said. "We run a clean and legitimate business. We know what we're doing and we're very professional."
Officials and residents worry that the more than 7,000 flavors of vaping chemicals, including gummy bears and bubble gum, are targeted toward kids. DiFazio said children aren't the only people who like candy.
While the Pleasantville store doesn't carry traditional tobacco products, the shop sells apparel, candles, glass water pipes, smoking accessories and a variety of FDA approved liquids for electronic cigarettes that have various nicotine strengths. Liquids without nicotine are also available.
DiFazio acknowledged he has no control over how people use his accessories when they leave his shop, but he stressed his products are intended to help people quit smoking.
"We're very interested and educated in the business and we care about our customers," he said.
He added that his store has rules. If a customer violates a rule, they must leave.
"We suspend all sales if the customer blatantly admits they are using our products for illegal use or uses the paraphernalia terms for the (illegal) products," he said. "Our products are meant for tobacco use only."
DiFazio said that no one from the school district or any elected official has approached him with their concerns. He said he wants to work with the community to discourage youngsters, even from peering into his store. In October, he plans to meet with village officials to discuss frosting his front glass window and hanging signs explicitly stating that youths are prohibited.
Although controversy is boosting the shop's foot traffic, DiFazio hopes the community will accept his business.
"We love Pleasantville and people think we're coming in and ruining it," DiFazio said. "We're a family business trying to make an honest living, we're not looking to hurt anybody or make people uncomfortable. We didn't think we were doing anything wrong by coming here."