Pleasantville Schools Set to Begin Work on New Strategic Plan
By Janine Bowen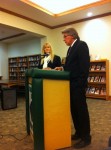 The Pleasantville School District unveiled its intentions last week to develop a new five-year strategic plan as part of an initiative that Superintendent Mary Fox-Alter is calling Pleasantville Schools 2026.
The goal is to look forward to the type of education this year's kindergarten students will need by time they graduate high school and to develop action plans to achieve goals that will allow the district to better serve students.
"We are 100 percent focused on the needs of students," Fox-Alter said.
Interim Pleasantville High School Principal Dr. Daniel McCann, who has helped implement similar five-year plans in the Rye Brook and Hendrick Hudson school districts, said that in order to help students, school officials must look ahead rather than wait until the need for change arises.
"It's really directed at celebrating what young people are about and celebrating as a community … but if you don't plan, you react," McCann said during the Jan. 14 board of education meeting.
Although Pleasantville's five-year plan intends to make major changes to the district, McCann emphasized that it won't necessarily require a lot of funding, and urged administrators and the board to examine existing resources and be prepared to make a serious time commitment in order to implement changes.
McCann and Fox-Alter also noted that these action plans are designed to re-evaluate courses in order to make learning more relevant and interesting for students and teachers. The district hopes to introduce new classes, such as marine biology and sports literature, based on suggestions made by current students. Other districts as well as foreign schools will be analyzed to determine what can be done differently or more effectively.
"If you can accumulate, in your school system, the best practices of surrounding districts, then you're on top," McCann said. "We are among the best in Westchester County … but if we just stay where we are, we're not going to remain the best."
Initial work on the plan will begin by the end of this month. A 25-member Strategic Planning Team, comprised of board members, students, community members, parents and teachers, will meet for two days to establish objectives and strategies. Following that meeting, separate action teams of 12 to 25 people will be assembled to conduct research and work toward developing specific goals, or action plans, for the district.
Both groups will reconvene in June to review plans and receive approval from the superintendent to implement them. Fox-Alter and McCann expressed hope that the first action plans will be in place for the 2014-15 school year.
Trustees are urging community members and parents with students in the district to participate on an action team and help create a school environment that will improve the quality of education for Pleasantville students.
"To engage so many people in the community to have a direct say in their schools is critical to this," Fox-Alter said.
McCann added that the more people who are involved, the more successful the initiative will be.
"If you take advantage of … the energy of your community, your faculty, your administration, and your students, you emerge. And you emerge as a more dynamic and powerful organization for kids," he said.
Parents and community members in attendance were all in favor of the plan, praising the board for suggesting changes they would like to see, including the reintroduction of field trips.