Pleasantville H.S. Basketball Star Found Dead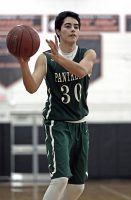 The Pleasantville community is mourning the death of Pleasantville High School senior Quentin Lupo who apparently committed suicide on Wednesday.
"We are heartbroken over his passing," said Pleasantville Superintendent of Schools Mary-Fox Alter. "Quentin was a bright shining student athlete, a star on our sectional championship varsity boys' basketball team, a wonderful friend, great teammate, loving son and terrific brother."
Sources told The Examiner that Lupo was staying with his father in Greenburgh when he died Wednesday night from an apparent self-inflicted gunshot wound. Greenburgh police did not provide any information.
Lupo was a key member of the Pleasantville Panthers' sectional champion basketball this past season.
With the district on break this week, Pleasantville High School will be open on Friday from 12 to 2 p.m., providing counseling and support to the students.
Fox-Alter added that a table would be set up in the gym for those who wish to sign a message for Lupo. The district is also currently working on a plan for when school is back in session on Tuesday.
"Our heartfelt thoughts and prayers continue to be with Quentin's family, friends and our students during this difficult time and in the weeks and months to come," Fox-Alter said.
Check for updates on this story here and in next week's print edition of The Examiner.