Planning Board Considers NYPA Landscaping and Post Road 7-11
We are part of The Trust Project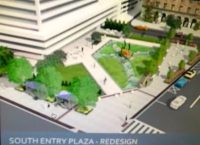 The October meeting of the White Plains Planning Board saw the latest revision to the New York Power Authority (NYPA) site plan at 123 Main St., with repairs and renovation to the parking garage including the addition of 120 parking spaces, from 736 to 856, and enhancements to the building's landscaping.
The project had been reviewed at an earlier meeting of the White Plains Common Council when Councilwoman Milagros Lecuona took NYPA to task on eliminating open space to accommodate the garage, requesting other forms of green space or green technology be given to the city in exchange.
The loss of open space is on the Hamilton Avenue side of the NYPA building, where a pedestrian walkway with benches and plantings has been eliminated and landscaping will, according to the plan, meet the sidewalk.
The design calls for vertical column trees, wide leaf trees for shade, evergreens and climbing ivy along the garage facades with built up planters and lighting cans along the sidewalks on all sides of the building.
A glass canopy from the building to the parking lot will provide rain cover and night lighting for NYPA employees and visitors.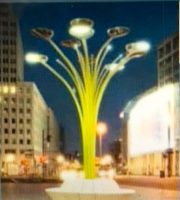 The south facing plaza at Williams Street, Main Street and MLK Boulevard will maintain the green open space that exists with a redesign to enhance the artistic elements of the plaza. Several jumping fish sculptures with decorative grasses will appear like a stream meandering through the darker green grass and a solar-powered "tree" will provide night lighting.
The $14 million project has allocated about $1 million for enhanced landscaping.
The Planning Board agreed to tell the Common Council, which is lead agency on the site plan decision, that it approves the project.
Another project reviewed by the Board is the proposed 7-11 for 26 E. Post Road, a former gas station.
Remediation of a spill on the site has been completed and closed by the DEC with another area undergoing further testing, but which is outside of the scope of the 7-11 site plan.
The retail building at the corner of Brookfield St. and E. Post Road faces the White Plains Hospital and was considered by several Board members as a good addition to the vicinity.
The Zoning Board of Appeals had already given a parking variance for reduced parking, considering that the retail space is small, customers have a quick turn around time within the store and that many customers of the 7-11 will be pedestrians coming from the hospital. Hours of operation are 24/7.
There was some discussion on traffic, especially unloading of product deliveries.
Reports from Public Safety and the Traffic Department are expected before the next meeting in November.
The Planning Board is the lead agency on the project site plan approval.