Plane Crashes at IBM Watson Center in Yorktown
We are part of The Trust Project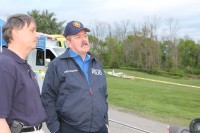 A small single-engine plane crashed onto the southern lawn of IBM's T.J. Watson Research Center in Yorktown on Friday at 4:35 p.m.
The aircraft originated its flight from Teterboro Airport, NJ, and was heading to Norwood Memorial Airport, MA, according to officials. There were two men, the pilot and a passenger, on board.
Officials said the privately owned plane, a 1996 BE36 Beechcraft, developed mechanical problems and the pilot attempted to divert to Westchester County Airport.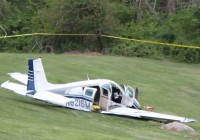 According to police the plane appeared to have entered the field from the northeast.  It crossed the grassy field, leaving a trail that extends about 200 feet and landed up hill.
Yorktown Police Lt. Robert Nobel thinks that the pilot used the hill to help stop the plane. The downed craft could be easily seen from the Pines Bridge Road.
The plane is registered to Mark Ehrenzeller of Hopkinton, MA. Officials have not yet confirmed the identities of the two men. It is clear whether Ehrenzeller was the pilot.
Both men were conscious following the impact of the crash and were taken to Westchester Medical Center with minor, non-life threatening injuries.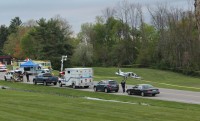 "This is a miracle," said Nobel. "I mean it really is. It's a miracle there wasn't a fatality."
Yorktown Police and the Yorktown Fire Department were on the scene. Westchester Police also participated in the investigation.
According to Yorktown Police Chief Daniel McMahon the FAA is will not be investigating the incident.