Piece of Art Stolen from Mahopac Public Library Gallery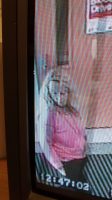 The Carmel Police Department continues its investigation into a missing piece of artwork stolen from the Mahopac Public Library two weekends ago.
On Dec. 3, a watercolor piece of art that was unframed was stolen off the wall, according to the Carmel Police Department. In an email, Carmel Police Chief Mike Cazzari said the incident took place around 1 p.m. that day, which was the same time a blood drive was occurring on the third floor of the library.
Authorities are now seeking the public's help in identifying two people that were seen entering the library and going to the third floor around the time of the theft. Cazzari said at this time the two subjects are only wanted for questioning as potential witnesses.
As of Monday before press time, there were no other developments.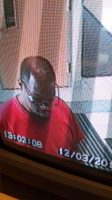 The images provided that show the two people the police want to speak to are a white woman with blonde hair that had a pink sweatshirt on and a black man with short hair that had a red t-shirt on. The watercolor taken was titled "By Fall's Early Night" from artist Michael Mendel.
Because it was unframed, Debra Feiman, who is part of the library's administration, said it was easy for the thieves to fold it up and make it look like an insignificant piece of paper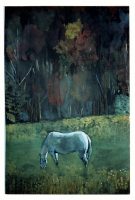 Feiman said she discovered the artwork missing when she came into the library on Sunday, Dec. 4. From there, library officials dug up surveillance video apparently catching the crime from different angles and shared it with Carmel police on Dec. 5.
"They have whatever information we could provide to them," Feiman said. "We're trying to get them a copy of the video to see if they can see a license plate or something like that."
This is the first time in ten years since Feiman joined the library that a piece of artwork was stolen.
The remaining artwork remained unframed through the weekend, Feiman said, noting the library has security cameras as a deterrence.
"We've never had an issue where unframed work has been removed in this way," she said.
If anyone can identify the persons photographed, they should contact Officer Macom or Detective Russo at Carmel Police Department (845)-628-1300. All callers will be kept confidential.