PHOTOS: White Plains Remembers on Memorial Day
We are part of The Trust Project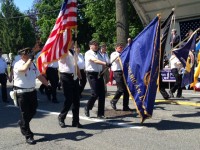 From Main Street to North Broadway to the White Plains Rural Cemetery to the Sailors and Soldiers Memorial Plot, they marched to remember, honor, and give thanks to those who have fallen in home and foreign wars and those who are currently serving in the United States Armed Forces. Click here for Slide Show
The ceremony following the White Plains Memorial Day Parade on Monday was hosted by American Legion Post #135. The deceased honoree was Edward J. O'Keefe, U.S. Army. Sentiments of the service decried the national move to smaller and smaller Memorial Day parades in favor of trips to the shopping malls for holiday sales. Mayor Thomas Roach suggested everyone thank a veteran. He vowed to continue to grow the Memorial Day parade and ceremony in White Plains and asked residents and businesses to show their support by flying an American Flag.
Grand Marshall Honorable Denis Donovan said it was time for America to get behind its vets. "There are too many who are homeless," he emphasized.
Chaplain Robert Donnelly, U.S. Marines, quoted from Shakespeare's play Henry V, that we all gather "like a band of brothers" to remember those who never got to see the future they died defending.
And a song by the Forever Young Singers of White Plains echoed: "If you ever think of me, think about your liberty and recall some gave all."