PHOTOS: Jefferson Valley Mall Hosts Moms Night Out
We are part of The Trust Project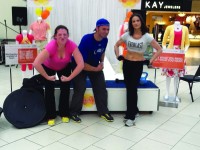 Simon Property Group, Inc., the world's leading retail real estate company, once again made its properties the place to be this spring as mothers across the country and in Yorktown Heights celebrated national Mom's Nite Out on Thursday, May 10.
At Jefferson Valley Mall, attendees had the opportunity to participate in an evening filled with pampering, refreshments, entertainment, fashion and beauty services, all focused on rewarding moms.
"We believe that moms deserve 'A Nite Off,' so Simon malls hosted a free event where they can enjoy their favorite destination in a new way," said Lisa Bennett, assistant vice president of business development at Simon Property Group.
Simon teamed up with several prestigious brands and organizations, including Diet Coke, Dove Body Wash, Little Black Dress Vodka and VISIT FLORIDA, and locally Examiner Media, to celebrate Moms and their many contributions to the world.
Moms were treated to complimentary pasta & sandwich samples from Oregon Landmark Deli, Pink Chips donated by J& G distribution; delicious sampling of chocolates from La Chocolatiere; smoothies from Tropical Smoothies; freshly made popcorn courtesy of Carmel Cinema; Keurig coffee courtesy of Sears; delicious cookies from Girl Scouts, water from Asian Chao & more!
Participants viewed a fashion show of looks from Sears as well as dance and fitness demonstrations from Pulse Performing Arts and All-Out Fitness, respectively.
Over 30 exhibitors were part of the event and moms participated in the Message from the Heart Wall. There they wrote a message and placed it on the tribute window in honor of a mom or in memory of a friend or family member. All donations benefited Support Connections, a not-for-profit organization that helps women who are affected by breast and ovarian cancer as well as their families and friends.
Additionally, two moms walked away with a family four-pack of tickets to Broadway's hit Godspell. Throughout the evening, shoppers took advantage of special offers at over a dozen retailers including New York & Co., Brookstone and Bath & Body Works.  The first 250 attendees who registered received a free gift bag with product samples and offers and a complimentary pair of sunglasses.
These events, thanks to an alliance with Little Black Dress Vodka, are helping raise awareness for Dress for Success, an international not-for-profit organization offering services designed to help underprivileged women find jobs and remain employed.
"Jefferson Valley Mall is the perfect venue to thank mothers and celebrate all they do," said Lauren Penchina, director of mall marketing for Jefferson Valley Mall. "Our recent survey with BSM Media indicated that one-third of moms go to the mall to escape their daily routines."
"Little Black Dress Vodka is excited to support Mom's Nite Out as we identify with hard-working moms and their need for a night out," said Laura Webb, Little Black Dress Vodka brand director.