PHOTOS: Community Cares 4th Annual Gala
We are part of The Trust Project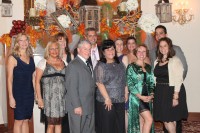 About 250 people came out to support Community Cares and this year's honorees at the gala held on Thursday, Oct. 18 at Villa Barone. The event, which is also the organization's major fundraiser for the year, featured food, the sounds of the band Settin' the Record Straight and a wall lined with silent auction prizes.
Community Cares recognized seven individuals for their efforts.
Krista Donahoe, a Mahopac educator who is currently battling cancer, was honored with the Point of Light Award for her constant devotion to volunteering within the community.
The Light of Hope Award, which is given to someone who has traveled the survivor's journey, was awarded to Elizabeth Bauerlein who has been fighting Non-Hodkins Lymphoma for six and a half years.
John Velezis, owner of Four Brothers Restaurant and Pizza in Mahopac, was honored with the Light of Giving Award.
Additionally Community Cares recognized the volunteer efforts of Dawn Brown of Xpress Printing, Patricia Murray of Community Cares for Kids, photographer and designer Tabitha Pearson Marshall and Grace Pietrosanti of Sacred Heat Gifts and Apparel. Referring to each recipient as a "silent hero" the Community Cares Board of Directors wanted to honor the women's constant stream of support for the organization.
For more information about Community Cares visit www.CommunityCares.org or call 845-621-CARE.