Philipstown Residents Reflect on Roger Ailes Mini-Series
We are part of The Trust Project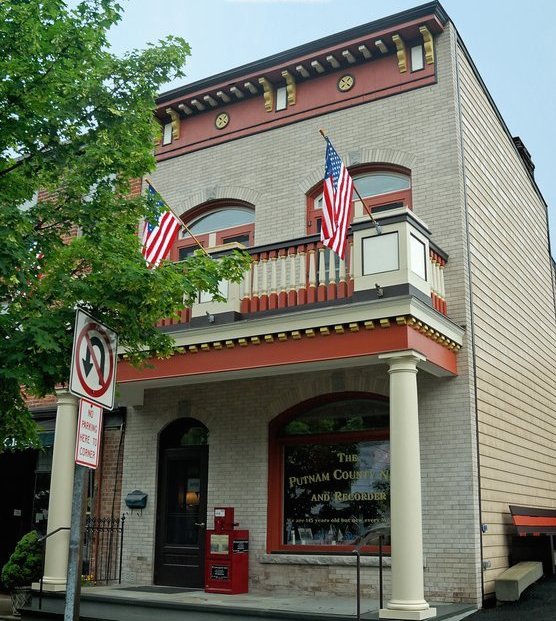 When news began to spread that Fox News chairman and media mogul Roger Ailes had purchased the Putnam County News and Recorder, some Philipstown residents had no idea who the conservative firebrand was while others were quite aware of the way he dominated cable television news ratings and influenced national politics.
Cold Spring resident Kathleen Foley said she was horrified when she found out. Philipstown Supervisor Richard Shea said he didn't have a clue who Ailes was.
"I was pretty naïve and I paid a price for it," Shea said.
It didn't take long into his ownership of the weekly newspaper in 2008 for everyone in Philipstown to become quite cognizant of who Roger Ailes, a former Garrison resident, was and what direction the PCNR would go in.
"I knew he was going to do exactly what he had done on the national scale in our community — divide and conquer," Foley, who is involved civically and politically, said. "He got right to work, and he did it."
Many Philipstown residents active in local politics and community organizations are reliving that time with the Showtime mini- series, The Loudest Voice, which focuses on the life of Ailes, from how he turned Fox News into a cable news powerhouse to his stomach-turning treatment of women. But part of the series looks into Ailes' life in Putnam County with his wife Beth and son Zachary, including how he turned the PCNR into a smaller, print replica of the conservative news channel Fox News.
Controversy and Contention 24-7
Ailes, as shown in the mini-series, bought the PCNR with his wife Beth running the daily operations. During their tenure running the PCNR (and later also the Putnam County Courier), many residents in Philipstown believe the Aileses were the undisputed reason for the discord and disarray in their community.
Foley, who has watched the series, said what has been broadcast so far in the show, was only the beginning of the controversy Ailes, played by Russell Crowe in the series, and the PCNR caused in town. The newspaper was able to identify wedge issues that pitted neighbors against each other and attacked not just elected and appointed individuals, but private citizens that the Aileses did not agree with, Foley said.
So much time was spent on combatting slanted articles that devoting time to improving the community was reduced, Foley also noted.
"They made our neighbors mistrust us and the work we did on behalf of our community," Foley, who is on the Cold Spring Historic District Review Board, said. "He traded in fear and suspicion — stoked it."
As supervisor, Shea dealt with and interacted with Ailes more than most of the Philipstown residents that faced Ailes' ire. He described his relationship with Ailes as "up and down."
In 2011, Ailes put a tremendous amount of money and positive news coverage behind a Republican that ran against Shea while slamming the Democrat at every turn.
One time, Shea's house was even featured on the front page of the PCNR with a negative headline attached to it, which he found unsettling. The volume of hate mail that was delivered to Shea's home was at its highest when Ailes went after him, Shea said. One time, a letter with white powder (though it ended up being nothing serious) was even mailed to him.
Too many national issues were inserted into local politics that shouldn't have been, Shea said. Shea recalled Ailes even calling him and threatening to ruin his life.
"He was a big, powerful media personality and we were not equipped nor knowledgeable enough to understand what was coming," Shea said. "He was trying to change this community."
Throughout it all, the two men still had a dialogue. When Shea would call Ailes to complain about coverage, he would just laugh on the other end. Ailes would call Shea to either pick his brain about a town issue or voice a disagreement he had with the town board.
Shea went to Ailes' office on several occasions and talked with him, sometimes for more than an hour. It gave Shea an inside look into a man that many only knew from a distance.
"He liked me, the guy didn't hate me, I could tell he liked me because I wasn't what he thought I was," Shea said. "He was just trying to figure that out. I was the kind of guy he should've been supporting, but the politics of it just got in the way."
While neighbors that were affected by Ailes' reign gathered to watch the series together, former Democratic committee chair in Philipstown, Kim Connor, said she won't watch any part of the series. Considering how difficult that era was for many Democrats in town, Connor isn't interested in reliving it.
"It was so damaging to the community," Connor said. "I actually have avoided it."
The first hint Connor got that Ailes could become a divisive figure in town was before he bought the paper. He wrote to the Putnam County Historical Society on Fox News stationary to complain that the non-profit was waging a war against Christmas and threatened the organization's director, Connor recalled.
"At the time we sort of knew who he was, but not in the way that we came to know him later," Connor, who did graphic design work for the historical society, said.
The PCNR pre-Ailes was a neutral news source that didn't have an angle or agenda, Connor said. He used the newspaper to bully ordinary citizens, Connor remarked.
Nancy Montgomery, who is a former Philipstown councilwoman and current county legislator, said when she and other residents watched the first episode focused on Philipstown, within a few minutes it was clear they were still traumatized from their dealings with Ailes. She said Ailes represents a "bad American dream that shows the underbelly of our national consciousness."
"It was an awful time here in Philipstown," she said. "It's hard to watch."
While many residents in Philipstown found the PCNR to be a destructive vehicle in the community, there were still some supporters of the Ailes family. Garrison resident Tim Greco, who used to work for the PCNR when Beth was the publisher, said the Aileses were extremely generous people and were also down to earth.
Greco, who is the pastor for Church on the Hill in town, said the Aileses were the first two people to help when a local person was in need. For instance, the Walter Hoving Home, which is a non-profit that helps women recover from drug and alcohol abuse, was dramatically upgraded because of the Aileses, he said.
Greco said he feels bad how the Aileses were treated by members of the community that were at odds with the PCNR. Greco, who left the paper for reasons unrelated to the accusations Ailes was facing at Fox News, said he misses working for Roger and Beth and with some of his former coworkers. He stressed Beth was a "very strong and fearless leader" and "amazing publisher" that never backed down from a fight and conducted herself with class and a sense of humor.
"They did many charitable deeds that nobody even knows about in our community," Greco, who noted he won't watch the Showtime series, said. "They were very good to the community when the community needed them."
Showtime vs. Reality
The only elected official that has been portrayed in the two episodes featuring Philipstown was Shea, who appeared in two scenes. Actor Mark Lotito played Shea, though Shea said the actor never reached out to chat with him (and appears older than Shea really is, he added.)
One scene is when he and PCNR editor- in-chief at the time, Joe Lindsley, had a heated conversation in a coffee shop and another when Ailes stood up at a town forum and blasted elected officials for attempting to pass a new zoning code.
The coffee shop scene never occurred, but Shea said he and Lindsley did run into each other at a pizza place in town and talked for a few minutes.
The confrontation between Ailes and Shea at a forum did occur, though it didn't play out in reality in the same way it did on screen.
While the crowd at the meeting seemed to be siding with Ailes in the show, Shea said people in attendance were more evenly split in their opinion of the proposal. The forum took place at Haldane High School's gymnasium, not a local church. The show also depicts Ailes backing off when the town made an exception to the law that would not affect Ailes' massive property, but Shea said no deal was ever made.
"There were no changes made in that document based on conversations I had with Roger Ailes," Shea said. "They just didn't understand the document at the time… he cared about making a big soapbox statement at the meeting, but really it was this one issue that was self-serving. He made it sound like he was standing up for the common man, which couldn't have been further from the truth because he didn't give a shit about the common man."
Shea said there is one aspect of Ailes that doesn't come through in the series: "He had a pretty good sense of humor, I will say that."
Moving on Post-Ailes
After owning the PCNR for eight years, the Aileses sold it (and the Courier) in 2016 to Douglas Cunningham, who was the editor- in-chief following Joe Lindsley's tenure. Residents critical of the Aileses concede the PCNR's coverage is more down the middle under the current ownership.
"Most of the events depicted occurred before I became editor in April 2011, and virtually all of them before my partner and I bought the papers in December 2016," Cunningham said in an email. "For us, we're looking ahead and are focused on providing intensely local news and advertising to the communities we serve in Putnam County."
While the wounds from that time will never be completely forgotten by some residents, the constant unrest the PCNR's coverage stirred is now just a memory.
Roger Ailes died in 2017 and according to many locals, Beth doesn't reside in Garrison anymore.
Shea said things have calmed down, but he admits going through that tough time made him a better leader.
Foley said stories in the PCNR now are about local issues and don't target individuals. With the drama subsiding, leaders in the community can do their jobs without intimidation.
"I'm doing the same good things I always did, but now my motivations and my loyalty to community aren't questioned," Foley said. "And I work hard to reach out and connect to the specific villagers Ailes groomed to hate me. I've heard more times that you can count things like 'hey, Foley, you're not what I thought–you're alright.' Without Ailes, we all get to be judged for who we are, not for who his fear and paranoia made him want us to be."