Pets a Go Go, Briarcliff Manor
We are part of The Trust Project
Doggie daycare sounds like great fun. For the dogs that spend time at Pets a Go Go in Briarliff Manor, it actually is.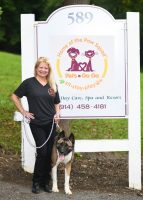 Established by Nicole Rigger, the facility has been the go-to service for many families in the area who are unable to care for their dogs during the day. It also helps dog owners who travel frequently and need a place for their pets to be taken care of in a safe environment.
In addition to offering daytime care for dogs, Pets a Go Go provides in-home pet sitting, private or group dog walking, running, on- or off-leash hikes and expert training, grooming and overnight care. Trained staff directly supervises at all times.
Rigger, a Chappaqua resident, opened the business in 2012. Before then, she had a dog walking service that enabled her to build a solid base of local clients. An unfortunate experience with a kennel made her realize that she could create a pet-sitting and dog-walking business of her own; one with a more personalized touch offering the kind of accountability that other pet care businesses lacked.
Six years later, Rigger is managing a thriving business that employs 30 people, including trainers, walkers and groomers. Her outfit cares for about 40 dogs a day of all sizes and many breeds.
"This is like one big pajama party for our dogs," said Rigger, referring to the playful atmosphere she provides.
Rigger gutted the building at the former stone yard and replaced it with a state-of-the-art facility that not only provides plenty of room for the dogs to play but is also equipped with natural materials, inside and out.
Open seven days a week year-round, Pets a Go Go has a philosophy that eschews cages, allowing the dogs to interact freely with each other in indoor and outdoor play areas that accommodate different size animals. The dogs in each group are supervised by a caretaker who encourages appropriate play.
The only instances you'll see a dog in a cage is when it is drying out after a grooming session, is waiting to be picked up by an owner or if it's participating in a housebreaking training schedule.
Before a dog is admitted to the daycare facility, its temperament is tested by experienced trainers during a one-hour assessment. Vaccines must be up to date and the results of a fecal exam are also required.
Rigger, a former software designer in the financial industry, said she often tests a newcomer by introducing an opposite gender, non-reactive dog to see how the new dog will react. If both dogs display a relaxed demeanor, then the trainer knows that the newest dog will fit in well with the group.
The dogs engage in a variety of fun activities and games.
"Our dogs exercise a lot," said Rigger. "All of our dogs need both mental and physical stimulation and that's what they get here."
Rigger said grooming is conducted using the Thera-Clean® Microbubble Technology, a cleaning system that gently removes trapped dirt, bacteria, yeast, and allergens from a dog's skin without the use of soaps, chemicals or abrasives. All of the products that Rigger stocks at Pets a Go Go are GMO-free, U.S.-sourced and paraben and chemical-free.
Two years ago, she installed an air filtration and disinfectant system that includes ultraviolet germicidal irradiation, guaranteeing the health of each pet and suppressing the spread of infectious diseases.
Pets a Go Go is located at 589 N. State Rd. in Briarcliff Manor. Clients can drop off their dogs as early as 7 a.m. and pick them up as late as 10 p.m. For more information, call 914-458-4181 or visit www.petsagogo.com.
Colette Connolly is a copywriter and p.r. expert. She owns Connolly Communications, which is based in Bronxville, New York. Colette specializes in providing content-rich, SEO-optimized press releases, articles, newsletters, brochures, and customer success stories.