Personal Stories of Drug Addiction Deaths Told at Forum
We are part of The Trust Project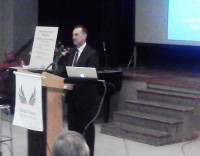 Community members, including two local families that lost sons to drug addiction, gathered at the Phoenix Academy in Shrub Oak last week to discuss the problem that is plaguing many municipalities. The Salomone family, of Mahopac, lost their son Justin, 29, to a drug overdose on May 29, 2012. The Christiansen family, of Somers, lost their son Erik, 28, to drug overdose on June 9 of the same year.
Following the tragedies, the two families decided to deal with their common grief by joining forces and holding forums on the delicate subject matter.
Among the many individuals who spoke last Thursday was Gary Mendell. Mendell's son Brian, 25, committed suicide due to drug addiction.
In his honor, Mendell began an organization called "Brian's Wish." Brian's Wish is dedicated to researching and informing the public on the problem of drug addiction and possible solutions. Mendell provided a presentation for all who were in attendance. With it he provided many points about drugs and the things that lead to addiction.  For example:
-"Marijuana is 300% more potent than 20 years ago".
-"There are "approximately 2.5 million new prescription pill users a year".
– Alcohol is "the most significant gateway substance."
However, after he completed his slide show, he didn't want the audience's attention on the facts. "If there is one thing I want you to remember today, it's my son Brian," he said.
Before Brian committed suicide on October 20, 2011, he researched famous suicide notes, said Mendell. As where most suicide notes are about anger, Mendell said his son's was a sad one. He read some of the lines:
"I don't want to hurt anyone any more. I don't want to do anything illegal anymore. I thought sobriety was worth a shot hoping to get back to a normal life., but it has not worked. I love you all more than I can write."
Brian had been clean for 13 months.
Also among those who spoke Friday was Erik Christiansen's mother, Carol. When she stepped to the microphone she uttered four chilling, but real, words – "My son is dead."
"My son is dead due to a local doctor who prescribed him oxycodone," she said.
This is where Christiansen wants to bring the fight. She believes doctors should have more restrictions on prescriptions. There was a time where Erik's doctor prescribed him up to 240 pills a week.
As where Carol is focusing on the doctors, Lou Christiansen, Erik's father, is focusing on the youth. He believes that young people today must lead the fight against addiction. "We have to make it not cool to do drugs," he said."
Steven Salomone, Justin's father, said he wants to make sure people know addiction is a disease. "Medical evidence supports this. Once you become addicted it takes more than will power to stop," he said.
The Salomones and Christiansens have also held forums at the Mahopac Public Library and the Somers Middle School.  The Phoenix Academy, a residential treatment center, is located on Stoney Street.
By Robert Christie