Peekskill to Host Annual Jazz, Blues Festival
We are part of The Trust Project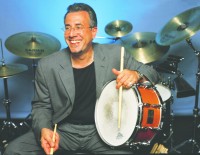 On Saturday, July 21, Jason Angell, executive director of Peekskill's Business Improvement District (BID), wants to see you dancing in the streets – Division Street, Park Street and Central Avenue, that is.
That's when and where the BID is sponsoring Peekskill's 6th Annual Jazz and Blues Festival, a free event created to draw people from all over the Hudson Valley into the city's bustling downtown and highlight its uniqueness, said Angell.
The festival, which Angell expects to draw 3,000 to 4,000 attendees, "is about bringing people in to see the nightlife, the restaurants opening up, the theater, and having them say to themselves, 'Wow, Peekskill has a lot going on and I want to come back here for dinner, I want to go back here for that book store,'" he said. "So it's kind of about making people aware of how much Peekskill has to offer and helping local businesses and commerce."
The festivities start at 1 p.m., when the above-named streets will be closed off from traffic for the length of the festival. A variety of events are scheduled to celebrate both the music of the festival and the diversity of its host city.
A newly created Jazz and Blues brunch kicks off the day's events, with local musicians performing in seven restaurants and cafés along Division and Main streets. The Birdsall House, The Beanrunner Café, 12 Grapes, and The Division Street Grill are just as few of the eateries hosting local acts, and attendees are encouraged to roam around and drop in on different venues and performances. While the music can be enjoyed free of charge, the food, however, cannot.
For an even wider array of eating choices, attendees can visit the Festival Food Court at South Division Street between South Street and Central Avenue from 1-10 p.m. The court features food from Peekskill eateries based outside of the immediate area of the festival.
Also at 1 p.m., Park Street will turn into Craft Alley, where local artists and crafters will display and sell their works until sundown. The Alley will also feature free family-friendly art activities coordinated by Justine Spilotros of Orange Splot Art Spot.
Spilotros, a Peekskill native, "museum educator, contemporary art enthusiast, education consultant and overall creative being," according to Orange Splot Art Spot's website, will open an free outdoor art lab in the Alley where kids can create "eco art instruments," play games related to art concepts, and learn more about the interconnectivity of music and art. Kids will also be able to use sidewalk chalk to decorate the Alley and utilize interactive magnet and chalk boards.
"The idea is to animate the block and lure people in and have lots of choices for art making and art inspiration," said Spilotros.
Along with giving children the tools to make and inspiration to create art, the festival also represents a milestone for Spilotros, who opened Orange Splot Art Spot last October.
"Last year for jazz fest I actually sat right outside of the business I own now, so this year it kind of feels full circle," she said. "I'm looking forward to making new friends and meeting more people in the community, and letting families know that I'm here. The community events are a good opportunity to just open the doors and invite everybody in to either participate or just check it out of curiosity."
Once visitors get their fill of Peekskill's culinary and artistic offerings, the main stage show, located at Division Street at Park Street and Central Avenue, will kick off at 4 p.m.
Nation Beat, an American/Brazilian collective that fuses Brazilian maracatu drumming with American jazz, funk, and blues, will open the show, offering a sound as unique and intriguing as it sounds on paper.
Marc Cary, a Washington, D.C-born jazz pianist and composer, will follow at 5:30 with his Focus Trio, which features Burniss "Earl" Travis on bass and Sameer Gupta on tabla and drums. Cary, who won the first annual Billboard/BET award for "Best New Jazz Artist" in 2000, describes his music as "a rhythmical journey into indigenous places."
"I try to span the history of jazz's past as much as possible," said Cary, "but I definitely try to come from an indigenous perspective with my music."
This perspective, he said, was crafted during his formative years attending the various music festivals hosted in the nation's capital, citing the Smithsonian's Folklife Festival as a major influence.
Cary said he believes in the power that music festivals can have on carrying on this indigenous legacy, even if the result isn't apparent at first.
"It may not have an immediate impact," he said, "but those that are exposed to it will remember that stuff. And if they come across it again, they'll be supporters of the music or at least be informed."
Following Cary at 7 p.m. will be Lakecia Benjamin, a saxophonist who has played with Stevie Wonder, Alicia Keys, Macy Gray, and Soul Squad. Angell said the Benjamin's star is quickly rising, noting that the festival can be an "I remember when" moment for the attendees listening to her on the cusp of fame.
Closing out the show will be Bobby Sanabria and Ascención, whose New York-born and bred Latin jazz has earned them multiple Grammy nominations.
"It's going to be the most exciting thing you've seen," said Sanabria, "because we play very in your face [and] aggressive. … All the musicians are virtuosos and it's very accessible at the same time because we involve the audience on a personal level. The rhythms that we utilize are some of the most exciting in the world, so there's no way that you're still going to be in your seat."
Cary promised that those who attend the festival will "be exposed to great music and have a great time. … It will be a great experience to come out and hear some live music, and hear the caliber of music you're going to hear that day for free."
For Angell, the festival's appeal is the culmination and combination of what Peekskill and the performers have to offer.
"What makes it special to me is the diversity – the diversity of the food, the music, and just seeing people dancing in the street," he said. "It's great to see people in the heart of [the city] having a good time and enjoying the summer nights."
For more information about the Festival, visit www.downtownpeekskill.com.
By Sylvan Lane