Peekskill to Celebrate with Fireworks, Food & Family Fun
We are part of The Trust Project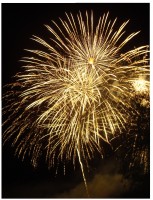 Peekskill Celebration, now in its 15th year, is a weekend of family fun and activities for all ages scheduled for Friday and Saturday, Aug. 3-4 at Peekskill's Riverfront Green. Free admission to the park gives visitors the chance to view unrivaled fireworks, taste a delicious array of festival foods, listen to the brightest local entertainment, peruse the 100 pre-selected vendors, artisans and community groups, and secure a front-row seat to see the most colorful spectacle on the river: dragon boat races.
There are some new details this year regarding the races. First, there is a new sponsor: Hudson Valley Hospital Center. Second, Celebration is partnering with Empire Dragons, a cancer survivor and dragon boat support team from New York City. Third, in order to accommodate the rapidly growing interest in the sport by cancer charity teams, the cancer awareness races will be expanded to a full morning of competition, while the community-focused teams will compete in the afternoon.
The Entergy Fireworks Extravaganza is one of the signature activities that make Celebration unique in the Hudson Valley. The pyrotechnic display is synced with music provided by WHUD 100.7 Radio. Whether from land or on water, the fireworks, which are scheduled for Saturday, Aug. 4 at about 9:15 p.m., are a sight to behold.
Local businesses, community groups and residents alike routinely make in-kind donations of goods or services, volunteer their time, or provide sponsorship dollars to Celebration, all of which help to defray costs. Recognizing the importance of Celebration in enhancing the quality of life in Peekskill and its ability to showcase the city to visitors, the City of Peekskill generously supports Celebration by providing police, EMS, fire, parks and recreation, and public works staff.
On the Main Stage
Celebration's Main Stage kick-off concert features the West Point Jazz Knights on Friday, Aug. 3 from 6 to 9 p.m.  The West Point Jazz Knights are bringing their more than three decades of musical excellence to Peekskill Celebration for the first time, playing big band favorites, popular music, and original compositions and arrangements for jazz ensembles.
"Because of their popularity, we have been trying to get the Jazz Knights to perform at Celebration for a number of years, but there was always a scheduling conflict," said Catherine Montaldo, Celebration's executive director. "We booked them last fall when we found out they'd be available during this year's Celebration weekend. They are a crowd favorite where ever they play."
The Friday night opening act is the Burr Johnson Trio. Johnson is an innovative guitarist whose powerful technique and artistic diversity have won wide recognition all over the world. Noticeable touches of jazz, rock and blues are heard through out his performances.
A full day of entertainment for all ages is on tap Saturday, Aug 4 from 1 to 10:30 p.m. The Main Stage Premiere performance features New York Uproar before and after the Entergy Fireworks Extravaganza. The band brings together some of Westchester's finest musicians to bring alive, and keep alive, the music of rock, soul, and R&B horn bands of the 1960s and '70s.
The full Main Stage schedule of acts, emceed by Lynn Darlington and sponsored by the Plumbers, Steamfitters and HVACR Service Union Local and Frank & Lindy Plumbing and Heating Inc. is as follows:
1-2 p.m.: Uncle Joel's Comb.
2:15-3:15 p.m.: Fred Scribner.
3:30-4:30 p.m.: Incendio.
4:45-5:45 p.m.: The Geoff Hartwell Band.
6-7 p.m.: Coyote Love.
7:15-8:15 p.m.: The Mark Von Em Band.
8:30-9:15 p.m.: New York Uproar.
9:15-9:40 p.m.: Entergy Fireworks Extravaganza.
​9:40-10:30 p.m.: New York Uproar.
On the Family Stage
Sponsored by the H.O.P.E. For Youth Foundation and emceed by Magical Margo, the Family Stage features the following entertainment on Saturday, Aug. 4:
1-1:45 p.m.: Trifecta.
2-2:45 p.m.:  Home Town Hero (formerly Backlash).
3-4 p.m.: The WIZ KIDZ.
4:15-5 p.m.: Ray Blue.
5:15-6 p.m.: Myles Mancuso.
In addition to the musical performances, Chris Clark brings his Bicycle Stunt Show back to Celebration again this year at noon, 2 p.m. and 4 p.m. on Saturday only.
For more information, visit www.peekskillcelebration.com.
By Bill Powers