Peekskill Rotary Club Helps Serve Area's Less Fortunate
We are part of The Trust Project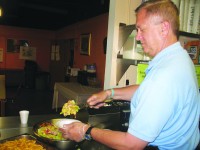 Eating a hot meal is a daily occurrence that most people take for granted, but for individuals who find themselves homeless or struggling to put food on the table, getting a home cooked dinner can be hard to come by.
For the last three years, the Peekskill Rotary Club, in partnership with Henry's on the Hudson, has been doing its part to make a difference in the community by serving a full course meal to an average of 25 men and women every Wednesday evening at the Jan Peek House, a year-round shelter for the homeless.
"This is service at the basic level," said John Mattis, a Peekskill Rotary Club member, while picking up trays of penne a la vodka, salad, and garlic knots and a lemon meringue pie last Wednesday from Henry's on the Hudson owner Bruce Prehal. "It's about giving back."
Without the Rotary's involvement, Prehal, a former Rotary Club president, said the individuals who at the Jan Peek House who are unemployed, mentally ill or have nowhere else to turn would have to settle for cold sandwiches.
"You never know when you or someone you know may be in the same situation," Prehal said.
Justin Billings is one of the clients at Jan Peek House who has been homeless for seven months.
"I really love this place. It has saved me from the depths of despair," he said. "I came here to revive my spirit and give back to others."
Since 2010, Jan Peek House has served approximately 180 residents. A free breakfast program known as the Sunny Donut at the Salvation Army kitchen on Nelson Avenue has served 30,000 meals over the same time period, while Fred's Pantry at Jan Peek has provided 230,000 groceries to the needy. All three services fall under the umbrella of Caring for the Homeless of Peekskill.
"It's really a critical function that we perform in the community," said Jan Peek House Executive Director Donna Besteiro. "There's a whole new class of homeless folks."
Bill Dauster, a Rotary Club volunteer and employee at Hudson Valley Hospital Center, said the service being provided by club members is unique.
"I've never seen a club do something like this where it was year-round," he said. "The commitment level among club members is really unbelievable. This is one of those community organizations that really mean something to people.