Peekskill Challenges State Audit Results
We are part of The Trust Project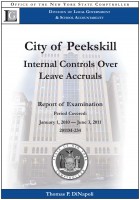 By Alex Weisler
Though an audit conducted by the state comptroller's office found that the City of Peekskill had a slew of problems with payroll processing, the city's comptroller challenged the findings and said the discrepancies resulted from flaws in a computer system.
Peekskill Comptroller Charlie Emberger said he and acting city manager Brian Havranek were not consulted fully during the state audit.
Emberger said he and Havranek asked the auditor for the specific employees whose leave accruals were being called into question but were not provided with those details.
"We disagree with the findings because of that," he said. "I feel very confident that we didn't overpay anybody or shortchange everybody."
The audit alleges that Peekskill lacked a comprehensive written policies and procedures for leave time.
Read the full audit report here.
As a result, the auditors argue, 12 employees had negative leave time balances, two used time to which they were not entitled and seven had accrued time that was not added to their balances.
The audit also argues that 33 employees who had left city government were not deactivated in the payroll system, "increasing the risk they could receive payments for leave time they are not entitled to."
But Emberger said the charges can be answered by a close examination of the city's payroll system quirks.
In the case of the 33 employees who had left the city but remained on the books, Emberger said the computer system requires individuals to be removed from four separate screens. Before the auditing process, the city had only known about one of the screens.
"You can't pay them but if you run a report, the report pulls in from screen three and they show up on a list," Emberger said of the 33 employees cited.
And even with knowledge of the three-pronged removal process, it's sometimes necessary to keep those individuals in payroll records, Emberger said.
"If we took them off totally, you lose all that history and the W2's could not be produced," he said.
Other issues, Emberger said, stemmed from the way the computer system processed end-of-December vacations and employees who retired halfway through the year.
"We knew the problem was there. it's not a problem that we overpaid. Some things have to do with software," he said. "Now since then, we have made corrections."
Mayor Mary Foster said she didn't feel comfortable commenting on the audit until Emberger and Havranek present her and the city council with a full report.
"I know the staff has been working on putting a corrective action plan together," she said.
The city has 90 days to fully brief Foster and the council on the audit, but Emberger said he doesn't plan to wait that long.
"I'm not waiting the 90," he said. "I hope to have it done in 30 or 45 days."