Patterson Town Board Talks Thunder Ridge, Town Hall Generator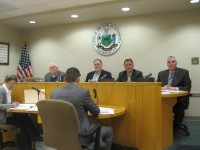 The Patterson Town Board wants the owner of the Thunder Ridge Ski Area to go back to the planning board for approvals because of parking issues and changes made to the site since its original approval.
At the Jan. 29 town board meeting, Supervisor Michael Griffin said the town had some issues with Thunder Ridge. One of the major concerns of the town is if there is adequate parking on the property so cars would not be parking off the site, Griffin said. "We need a (new) site plan," he said, adding later "We need to make sure everybody is safe."
Following last week's meeting, Griffin said there had been changes made to Thunder Ridge that were not approved as part of the original site plan OK'd by the planning board. Aside from parking issues, new structures have been built on the property without planning board approval, he said.
"We are trying to get this back to the planning board," Griffin said.
Town hall generator
Also at last week's meeting the town board voted unanimously to put out bids for a new back up generator at town hall.
The deadline for the return of the 136-page bid is March 4.