Patterson Rotary presents 'Men Who Cook' Next Weekend
We are part of The Trust Project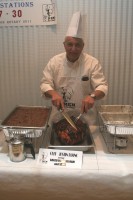 Putnam County residents should prepare their appetites for the 40 delectable culinary selections available for indulgence at the 16th annual "Men Who Cook" event put on by the Patterson Rotary Club  from 6 p.m. to 9 p.m. on Saturday, April 28 at the Starr Ridge Banquet and Conference Center in Brewster.
A sampling of the offerings, prepared by both professional chefs and others with skills perfected home to the delight of their family and friends, might further tempt those already interested in attending: roast pork, salmon with chipolte mayonnaise, short ribs with garlic mash potatoes, all followed by homemade pound cake drizzled with chocolate and a personal choice of ice cream on the side.
It's the Patterson Rotary Club's signature event of the year, and all of the proceeds raised through the $60 per person entry fee will go to benefit non profits and pay for students scholarships, event Chair Michael Ingber said.
"It stays here. We give it all back," he said. "That's why when I call someone up and ask them to participate, they say OK."
And among those who happily and willingly participate will be many familiar faces.
Rotarian Dan Horkan who owns Pre-Cycled printing company in Brewster will present lamb chops. Patterson Rotarian John Flanagan will serve up prime rib. Richard Hazzard, the funeral director at Beecher Funeral home in Brewster, is famous for his bittersweet chocolate torte.
"It will knock your socks off," Ingber said.
Ingber said all of the participants make sure their presentation is as good as the taste of the food.
Terry Danvin from Brewster Pastry added an extra touch to the Napolean he served last year.
"He blew me away," Ingber said. "He took out his torch and caramelized the sugar on top right in front of the people he was serving."
Among the 40 professional and amateur chefs will be Putnam County Social Services Advocate Justin Tavino who has been participating in "Men Who Cook" since its first year and will be honored for his contributions to the community at the dinner. Tavino has worked at Putnam County's Office for the Aging for 18 years and is member of the Knights of Columbus.
"He's an amazing guy. He's a very community minded person," Ingber said of Tavino, who also is well-known for his ham plated with a side of yams.
Ingber said he wanted to recognize another person in Putnam County who has helped to pull off the event: Brian Ledley, who owns a Brewster catering company and who is donating all of the linens, plate and flatware.
"He always steps up," Ingber said of Ledley. "He doesn't get enough praise for what he does for the community."
For those who may like to imbibe while sampling the delicious dishes, it is important to note that the event is "Bring Your Own Bottle" of wine, beer or spirits and Ingber suggested they also bring stemware so as to be able to properly enjoy a glass of whichever.
Ingber also noted that the event is traditionally casual.
Adding to the fund-raising efforts of the Rotary and the fun for diners, the evening will also feature a live and silent auction, raffles prizes and a grand raffle for a 7-day cruise.
Ingber said that while he and his fellow cooks hope to see more new faces this year, he also is looking forward to sating the dinner's repeat customers.
"People come back year after year for their favorites," Ingber said. "Once people hear about our event, they want to come back. We put on a nice event for a good cost."