Parkinson's Sufferers Find Improved Health, Life With Table Tennis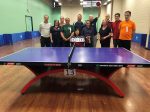 The Westchester Table Tennis Center held its first-ever tournament featuring competitors who have been battling Parkinson's disease Saturday afternoon.
Seven players from throughout the region, and one from Denmark arrived in Pleasantville for the inaugural Winter Championship for Players With Parkinson's, which allowed their skill level to shine.
The tournament was organized by Croton-on-Hudson resident Nenad Bach, a member of the table tennis center who founded the club's Ping Pong Parkinson's Night last year. The weekly program helps players by raising awareness for the disease and improving the physical and emotional health of those diagnosed.
Bach, who has had Parkinson's for six years, said playing table tennis has significantly reduced his symptoms and has helped him live life more fully. He said that the sport develops or modifies new neurons in the brain. Now, Bach is motivated to bring his findings to an international level to benefit the more than 10 million people who suffer from Parkinson's.
"I love it. For me it's boring to walk or lift weights but playing ping-pong is exciting," said Bach, who finished second in last Saturday's competition. "It's extending my life and I'm living my life."
Bach added that table tennis helps players remain agile, focused, coordinated and happy.
"People are here smiling like babies," he said. "We are creating or recreating some new neurons and it's exciting to say the least."
Yorktown resident Helena Rodriguez said playing table tennis for one hour eases her symptoms for two or three days. Rodriguez, who was diagnosed nine years ago, said she feels a sense of "euphoria" after a session,
World Parkinson Congress ambassador Elisabeth Ildal trekked from Copenhagen, Denmark to participate in the competition. Ildal travels around the world raising awareness for Parkinson's in hopes of accelerating the discovery of a cure and cultivate best treatment practices. She said table tennis increases the dopamine functions in the brain and improves the physical symptoms associated with the disease.
"We're going to play ping-pong all over the world," she said. "We're going to make this something big."
The tournament championship was captured by Margie Alley. The other players who participated were Arlon Bennett, Jose Ortiz and Bruce Ballard.