Panthers Break Open a Close Game to Defeat Briarcliff
We are part of The Trust Project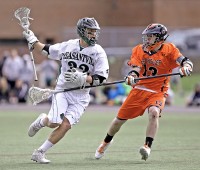 By Monica D'Ippolito – For one half, it was a close back-and-forth boys' lacrosse battle between two rival schools that have gotten off to impressive starts this season.
But Pleasantville eventually showed why it is among the best teams in the region, battling back to extend its undefeated record with a 12-6 home victory over Briarcliff last Thursday afternoon.
"It's something special," Panthers goalie Oscar Marchi said afterwards. "They're a big rivalry and there's been a legacy of rivalry games. We've been on top for most of them and to keep that legacy going is an honor."
Pleasantville's Brian Reda and the Bears' Stefano Paone traded goals to start the first quarter of play. Then Bryan Arcidiacono and Briarcliff's Keaton McCann also exchanged scores just 10 seconds apart, keeping the game knotted.
John Plimpton gave the Bears their first lead with an unassisted goal coming straight out of a Briarcliff timeout with just under five minutes to play. Cameron Fash added to the lead with 1:32 left in the first quarter, scoring off a feed from Nick Cebel, giving the Bears a 4-2 advantage at the end of one quarter.
The Panthers struggled gaining possession in the first 12 minutes, only holding the ball on the offensive end three times and finishing on two of those opportunities. But goals by Baylor Rosenbaum and Arcidiacono tied up the game at 4-4 with 8:47 left in the second quarter.
A goal by Matt Winiarski with 2:35 left in the half gave the Bears the lead again, but it was short-lived as Jack Finnegan set up Reda from behind the net, tying the game once again with a minute and a half to play.
After a Marchi save with 20 seconds remaining, Panthers coach Chris Kear called a timeout. He drew up a play, which set up Josh Della Puca's unassisted goal with just three seconds to spare, giving Pleasantville a 6-5 lead at halftime.
"Well, the first quarter I think we tried to apply some pressure and they handled it better than we thought they would," Kear said. "So we had to adjust. We changed our defense a little bit and Oscar was the difference, I think, keeping it close early. He made a lot of big saves early and throughout the game. I think our keeper really stood tall there."
In the second half, the Panthers were too much for Briarcliff. Marchi allowed only one more goal over the final 24 minutes, while Pleasantville scored six consecutive goals in the third and into the fourth quarter. The Bears finally broke up the run with a John Plimpton goal with 3:34 left in the game.
"I think we hurt ourselves a little bit, but give them credit for the way that their kids played and the way that they played four quarters," Briarcliff coach Robert Anderson said. "Like I said, I think we hurt ourselves, but give them credit for the things that they did and the way that they executed. I think it was more them than us, and we learn from it and we move forward."
Plimpton and Paone led the Bears with two goals each, while Arcidiacono finished with three goals and one assist for the Panthers, with Della Puca adding two goals and two assists.
Pleasantville got production from a few different players, including two goals from junior attackman Hayden McBride and one from freshman Declan McDermott.
"It actually was something we talked about, to get a couple guys into the rotation who hadn't gotten in much for the past couple games," Kear said. "Just to get the opportunity to get some depth and get some more experience for some of the other guys. Hayden McBride was one of those guys who stepped up. He had two goals and he's a guy that we wanted to get more into the rotation. He stepped up and had a couple of big plays, so that was really good."
After finishing with 11 saves, Marchi turned his attention to some of the things he and the Panthers are chasing over the second half of the season.
"To get that goose egg at the end of the year, to be 16-0 would be huge," Marchi said after P'ville improved to 10-0. "It has never been done before. It's the best start in Pleasantville history and just to get one more victory means a lot."
Despite the latest Panther victory, a question still hasn't been answered regarding who will fill the role of main face-off man for Pleasantville after losing Mike Hammond earlier in the month. Against Briarcliff, the weakness showed, as the Bears gained possession of 14 of the 22 face-offs.
Kear tried using a couple of different players at center circle, rotating between midfielders McDermott and Nolan McAndrew and long-pole, Jack Drillock.
"Losing Mike Hammond, our main face off guy, has been a little bit of a problem," Kear said. "We're still tinkering with it, figuring out who's going to be the next guy to step up. That kid was really good (Plimpton). He's a very good face-off kid. So we had to make a lot of adjustments just to get a possession here or there. But I think that was what controlled the tempo of the game. They were able to win all of those face-offs."